5 Best AirPod Alternatives With Incredible Sound Quality
The most popular isn't always the right option for you. Check out these AirPod alternatives.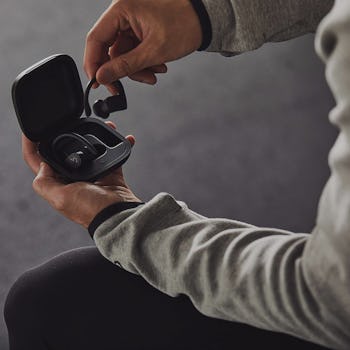 Amazon
So you've decided to join the wireless earbud experience. Maybe your age-old headphones finally lost the last silicone ear covers you had left. Maybe one earbud hasn't worked for quite some time, and the remaining one finally gave out. Maybe you have a short in your wire, or you're tired of untangling them every time you need them. Regardless of your reasoning for jumping on board with the wireless earbud trend, you deserve to know that there really is more out there than the standard Apple AirPods everyone seems to have.
Maybe you don't like the price tag. Maybe you have ethical qualms with Apple as a company, or just find yourself more loyal to their competition for compatibility reasons. Maybe you like to stick out among a group and just don't want AirPods because everyone else has them. Whatever your reasoning, it's valid. These are the five best AirPod alternatives available on Amazon.
For the Beats Fan
Why We Picked It: There are Beats loyalists just like there are die-hard fans of any brand. If you have loved or lusted after a pair of Beats headphones in your lifetime, consider opting for these true wireless Powerbeats Pro earbuds. Complete with a convenient charging case that doubles as a carrying case, you can get up to nine hours of playtime with a single charge and then return them to your case to recharge up to 24 hours of playback. Each earbud has its own volume and track controls, you can use voice control and if you ever lose an ear covering, back-ups are included.
For the One Looking for a Great Sale
Why We Picked It: These wireless ear buds set themselves apart with the amazing functionality of their charging case. From up to 90 hours of playtime that allows you to charge as you go, this charging case features separate LED display for each ear bud to tell you exactly how much juice they have left. Not only that, but these headphones—but not the case—are IPX7 waterproof, which means they won't get in the way if you're caught in the rain (or in a sweaty situation).
For the One That Likes the AirPod Look But Not the Price Tag
Why We Picked It: If you admire the aesthetic value of AirPods but not the price tag, these true wireless Benobby earphones are the perfect alternative for you. Designed to be portable and lightweight, a single charge will give you up to five hours of continuous playtime and the included charging case will add 15 extra hours to that. Not only that, but each earphone has HD stereo audio that will deliver stunning sound without rupturing your ear drums and the dual microphones on each ear bud allow you to use your phone's voice command or pick up a call seamlessly.
For the One That Loves A Best Seller
Why We Picked It: Listed as Amazon's best selling wireless earbud option, these true wireless headphones pair with your devices in only one easy step. The charging case is Qi-enabled so you can use your wireless charging pad to keep the music playing when you need to. A single car will give you fivehours of playtime and the charging case will add nine more hours on to that. But what really sets these headphones apart is their IPX8 waterproof feature which allows you to even swim with these headphones up to a meter deep. Not just that, but sweat, rain and even washing them with water won't interfere with your ability to listen to music in stunning definition. The 8mm large size speaker driver will allow for powerful bass that hypes you up during sports, work and your commute.
For the Samsung Loyalist
Why We Picked It: If you've owned Samsung products before, you know they mean business. With unmatched quality and innovation, Samsung created these true wireless Galaxy Earbuds. What sets them apart from all the competition is the inclusion of Ambient Aware technology which allows you to select and adjust how much surrounding noise you want to hear—such as total noise cancelling on an airplane, but slightly less when you're walking or driving in traffic and even less noise cancelling when you're waiting for a coworker to call your name for the 11th time this half hour.