These Outdoor Speakers Are Absolutely Perfect for a Summer BBQ
Enjoy your tunes in the backyard, porch, or patio in any weather—$100 off.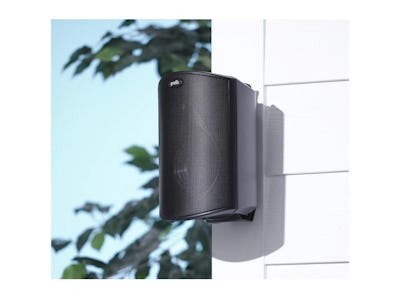 Amazon
As the good weather starts to become the norm rather than an unexpected treat, we're all starting to brainstorm ways to make the most of it. You might find yourself hiking or exploring garden centers, but when you're home, your outdoor space should offer just as much of a chance to retreat. Whether you're inclined to enjoy it in solitude or have the occasional barbecue, outdoor speakers should be on your list of must-haves.
Portable speakers are frequently too small, lack good sound, or need to be charged too often to pull their weight at an all-day outdoor session, and that's where Polk Audio's Atrium 4 outdoor speakers are meant to shine. Designed specifically for the outdoors, these easy-to-mount speakers can be installed in any outdoor space and provide amazing quality sound without ever needing to be removed due to weather concerns.
Boasting an average of 4.5 stars on Amazon by 1,082 reviewers, you can buy these versatile speakers without fear of wasting your money. Widely known as one of the best outdoor speaker options on the market, Atrium 4 features steeply angled baffle design for filling any open space with full-range sound that doesn't just blend in with your regular outdoor noises.
Installation is as easy as mounting the included bracket to your preferred location and the swivel One-Click Speed-Lock and Anti-Slip One-Handed mount allows you to position your speakers vertically or horizontally depending on your space. Designed to be durable in all weather conditions, you don't have to do any work to uninstall your speakers during the office season. Atrium 4's guaranteed rugged durability and high environmental endurace will leave you with a no-maintanence way to enjoy great sound year after year.
Grab it on Amazon for $100 less than usual retail. There isn't an outdoor speaker set on the market that exists at this quality and price-point.