The 'John Wick' Virtual Reality Game Will Double-Tap Your Oculus Rift
A first-person shooter set in the Continental Hotel.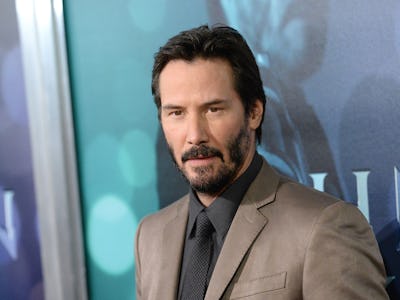 Getty
John Feltheimer, the CEO of Lionsgate, uttered a magical series of words to analysts recently when he revealed the studio is looking to turn John Wick into a VR game.
Virtual reality developer Starbreeze will be handling the game. Here's what Deadline Hollywood got from Feltheimer's call:
The CEO added that Lionsgate plans a virtual reality game for John Wick, which he says "is evolving into one of our newest action franchises." The deal with Starbreeze will create what the companies call a "first-person shooter game based on the world and characters of the John Wick films and centered around the infamous Continental Hotel."
A first-person shooter tour of the Continental via Oculus Rift or, to start, the HTC Vive, sounds just about right to me. That hotel was conspicuously the raddest aspect of the otherwise perfectly fine assassin adventure flick from last year. Imagine a slick downtown Manhattan establishment (set inside the slick-ass real-life Beaver Building at 1 Wall Street Court) that in its stoicism and low-profile elegance mirrors Keanu Reeves's Glock-cold demeanor as the titular assassin in John Wick. The underexplained network of hitmen and women at the Continental know it's a safe space — no work may be done on the premises, i.e., you won't get offed by other guests — with a house doctor on-call and a top-scale tolerance for freakouts. Take for example the hotel manager (The Wire's Lance Reddick) calling Wick's room during a glass-smashing brawl with Adrianne Palicki's honey badgeresque Ms. Perkins, who has decided to attempt a job on the premises:
Wick picks up at 2:08 in the clip above after a solid minute of rings, and the manager immediately apologizes for even making the call. "We have received a number of grievances from your floor concerning the noise," he says. When Wick replies that he was dealing with an unexpected guest, the manager offers to make a dinner reservation — code for disposing a corpse. It's all delivered with a ruthless, charming chill befitting a dude who runs a damn hotel for assassins.
Inverse has already stumped for the forthcoming John Wick 2 to unpack more of the Continental's mythology; so much went unsaid in the first movie that a sequel could wallow in the speakeasy-atmosphere of the hotel without wrecking the mood. A virtual reality treatment would be nearly as suitable. It's as if someone asked Lionsgate and Starbreeze whether they'd like to make a gold coin.
The developer says in a release that a teaser version of the game will be out later this year when the HTC Vive drops and that the game will be out on multiple VR consoles in early 2016.