Did You Miss This 'Tales From the Crypt' Easter Egg on 'AHS' Season 8?
Joan Collins really got to shine.
by Josie Rhodes Cook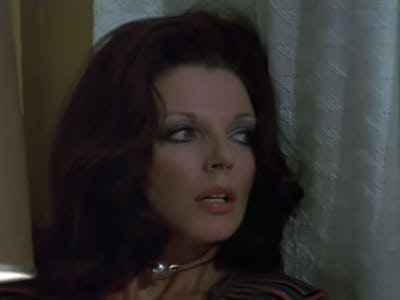 YouTube
Season 8 of American Horror Story has really had some fun when it comes to Easter eggs. There were a couple of X-Men references early on, and we've also seen nods to past AHS seasons that might hint at more crossover possibilities to come.
But eager fans caught on to what may be the best Easter egg of the season so far during Episode 7 in a scene featuring the incomparable Joan Collins. She's already played one character this season: Evie Gallant, Mr. Gallant's grandmother who he accidentally killed. But in Episode 7, she returned as Bubbles McGee, a movie star and a witch, to deliver a particularly awesome Easter egg.
In 1972, Collins was in a British horror anthology film called Tales from the Crypt. She stars in a segment titled "…And All Through the House."
In the movie, Collins' character kills her husband on Christmas Eve, and then can't leave her house to dispose of the body without exposing her own crimes because there's a killer running around dressed in a Santa Claus costume. (Yes, really.) She eventually faces off with the killer, and it doesn't end well… for her.
Season 8, Episode 7 of American Horror Story basically recreated that part of the film, with McGee, played by Collins, as the actress instead of Collins herself. Pretty meta.
Others agreed. "I fucking love that they paid homage to Joan Collins in "Tales from the Crypt," Reddit user Mississippi_Queen14 said in another thread.
On the seventh episode of "Apocalypse," Madison even made a comment to Bubbles when she went to fetch her from the movie set to help in the fight against Michael, asking whether she'd already made the same movie before, in an obvious wink to the audience. And TV Guide notes that AHS even used the exact phone featured in Tales from the Crypt in the Collins film set scene.
Season 8, Episode 7 of American Horror Story was full of surprises, but the Tales from the Crypt homage may have been one of the most delightful parts of the episode for fans.
American Horror Story airs at 10:00 p.m. Eastern on FX.