Early 'Annihilation' Reactions Say It's Great, New Sci-Fi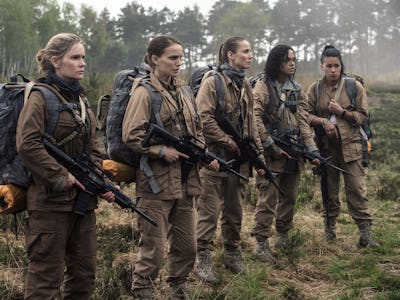 Paramount Pictures
When it comes to upcoming sci-fi film Annihilation, those who were concerned about the movie's success can relax now. The first reactions are in and they aren't just positive. They are great.
The members of the press who saw the film too to social media on Thursday to share their initial reactions. Critics praised the intelligence of the sci-fi film, its cast the visuals, and the work of writer/director Alex Garland.
Here's the official synopsis:
Lena, a biologist and former soldier, joins a mission to uncover what happened to her husband inside Area X – a sinister and mysterious phenomenon that is expanding across the American coastline. Once inside, the expedition discovers a world of mutated landscape and creatures, as dangerous as it is beautiful, that threatens both their lives and their sanity.
Based on Jeff VanderMeer's novel Annihilation, the film stars Natalie Portman as Lena with Oscar Issac playing her husband. Tessa Thompson, Jennifer Jason Leigh, and Gina Rodriguez are also part of the cast.
There were real concerns about how the film would be received. There were concerns that the film was "too intellectual" and "too complicated" and the idea of making changes in order to increase the film's appeal according to The Hollywood Reporter. The studio ended up making a distribution deal with Netflix, who will now handle its international release.
Going by the reviews those concerns could have been unwarranted. One review said the film was "the kind of brainy sci-fi we don't see enough of" while another called it a "masterpiece."
Garland's last sci-fi movie was Ex Machina, another smart and boundary-pushing science fiction film. Annihilation provided the opportunity for him to make another great film with a larger budget, which apparently became a gamble that concerned the studio.
Interestingly, the Southern Reach trilogy, which Annihilation is a part of, provided longtime science fiction author VanderMeer with his biggest crossover success. As part of the genre-melding splitstream, novels that bringing together different genres, VanderMeer's three installments all made their way onto best-seller lists. While he had been published sci-fi tales for some time, the trilogy was the first of his novels to be marketed to a wider audience.
"There are people who just will not read something about a fantastical city," he said. "They will read something set in some approximation of Florida…It's kind of the rate of strangeness that readers will allow," VanderMeer said.
Annihilation hits theaters on February 23, 2018.