Spider-Man: Homecoming Star Wants Ned to Become a Villain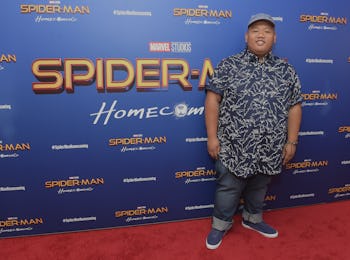 Getty Images / Jason Kempin
The Marvel Universe is packed to the brim with superheroes and supervillains. But 21-year-old actor Jacob Batalon, who co-starred as the adorkable Ned Leeds in Spider-Man: Homecoming, wants his good guy to turn to the dark side. At New York Comic Con on Saturday, Batalon told Inverse he wants to fulfill his comic book character's destiny as the supervillain, Hobgoblin.
"Personally I would love to be evil," Batalon said at the Spider-Man: Homecoming activation on the floor of the Jacob Javits Center. "I would love to be on my own glider. Eat evil, going to the bathroom evil. I would love to."
That "glider" part is important. While Batalon's character in the Marvel Universe of movies is based on the Ultimate Spider-Man character Ganke Lee, the name "Ned Leeds" is lifted from one of Spider-Man's foes, the Hobgoblin. Introduced in 1964 in The Amazing Spider-Man #18 and unmasked as a villain in #289 in 1987, Ned is a Daily Bugle reporter who is brainwashed into becoming the third inheritor of the Hobgoblin identity.
Like the other Goblins of Spider-Man's rogues gallery, Hobgoblin also rides an aero glider to throw pumpkin-shaped grenades at ol' Spidey.
"I did do a lot of reading," Ganke says about the comics. "I really liked Ganke. Ned's more just like a gallery person, but we put them together."
Hobgoblin may not be in Batalon's future, at least for now, because Avengers: Infinity War is on the horizon. Set to close off the first ten-year chapter of the Marvel Cinematic Universe, Batalon will reprise his role as Ned when the Avengers unite to take on the all-powerful Thanos. But while Ned's homeboy Peter Parker will be busy protecting Earth in the fight of the millennium, Batalon says Ned will be there for support. "He's still gonna be his best friend," says Batalon. "Peter might make him keep it [all] a secret however."
Together, Peter and Ned are a fan-favorite bromance among Marvel faithful. You can tell just by looking at the crowd at Comic Con: When Batalon arrived onto the dedicated Spider-Man: Homecoming booth, the 21-year-old Hawaii native is instantly mobbed for selfies. "I think the fans are so cool," he says, "They give me this energy that's so sweet and genuine."
Behind the scenes, it was important that Batalon and lead star Tom Holland got along. "We had a week of pre-production. We spent that time as a cast to bond together, get that chemistry going." Batalon says it was "just like going back to high school," as the 20-something actors got to rewind time and become high schoolers again. "Really young, full of bliss. [It was] easy to get into."
What wasn't easy was building that LEGO Death Star, as seen in the film where Ned drops it to pieces upon learning his best friend is a superhero. Under orders from director Jon Watts, both Batalon and Holland had to build the entire Death Star set together, which Batalon found "frustrating."
"I don't think I've had a worse time building something," Batalon says, laughing. "I mean, LEGOs are cool, but I'm just not into it. [Director] Jon [Watts] wanted us to bond, but little did he know that we were already close."
"We just tossed that thing to the side. We tried and failed," he jokes.
Batalon is willing to fail at LEGOs, but he's not willing to fail people. A Filipino-American born and raised in Honolulu, Batalon tells Inverse he feels some pressure to live up to his people's aspirations.
"I'm from Hawaii and people from there are very proud. And I don't even need to speak how proud Filipino people are of their own," he tells me (I'm also Filipino-American). "It's humbling to be in that position. I have taken it in such stride, I don't plan on disappointing anyone."
Spider-Man: Homecoming is available now on Digital HD and Blu-ray on October 17.
If you liked this article, check out this video about the evolution of Spider-Man games.