'Punisher' Bootleg Sequel Would Star Gina Carano as Lady Punisher
Adi Shankar's Bootleg Universe has two new films on the way. Lady Punisher could follow.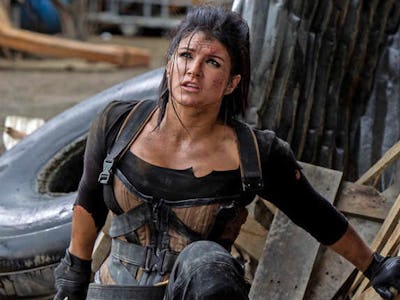 Over two years after going dormant, Adi Shankar's "Bootleg Universe" will soon return with a few big bangs.
The producer of Netflix's Castlevania and a number of big screen hits, Shankar has also made a number of well-received short films based on beloved comic book and movie characters. All fully unauthorized by rights holders, the shorts comprise of what he called the Bootleg Universe. Housed on YouTube, the five shorts have garnered millions of views, as well as several takedown notices (and eventual compromises).
Now, Shankar tells Inverse he has two new bootlegs "on the horizon that are both 70 percent done." While he won't reveal what they are just yet — there are legal considerations — he hinted one will be "BIG," and another more medium sized. They will both be out within six months, he said.
Shankar also revealed that he was previously in pre-production on a sequel to the popular short that launched the Bootleg Universe, 2012's Punisher: Dirty Laundry. The film was "going to be a two-hander that introduced the 'Lady Punisher'," Shankar said, "who was going to be played by MMA fighter and Deadpool actor Gina Carano."
Thomas Jane, who starred in Marvel's official original Punisher film in 2004 and reprised the character in Dirty Laundry, was also due to appear in the sequel. The script was written by Academy Award-nominee Wayne Kramer.
While the project had to be shelved, he says it may still be revisited and revived at some point down the road, and that it shouldn't be ruled out just yet.
Shankar's Bootleg Universe films have caused stirs in both fan communities and Hollywood. Both 2015 short shorts, a James Bond cartoon and Power/Rangers, which starred James Van Der Beek and Katee Sackhoff, earned takedown notices from their respective rights holders. They were put up several days later, with disclaimers making explicit that they were not official releases from MGM and Saban Films, respectively.
For the producer, the headache and risk are worth it.
"I want to take a complicated idea and explore it and present the question to the public, using these very accessible characters or universes," he told Inverse in a wide-ranging series of interviews last month. "You say, 'Hey, would you want to watch a deconstruction of the impact of PTSD on being a child soldier?' Most people are like, 'No, I don't want to see that movie.' But you throw in the context of Power Rangers, people are like, 'Yo, it's dope!'"
The producer has been busy with authorized projects the last few years. He's working on the second season of Castlevania, an upcoming battle rap movie called Bodied, and an anime-style adaptation of the video game Assassin's Creed. He also has a television show called Adi Shankar's Gods and Secrets.