Stop Blaming Spotify. Major Labels Are Greedier Than Ever.
Sony Music cleaned up in their previous contract with Spotify.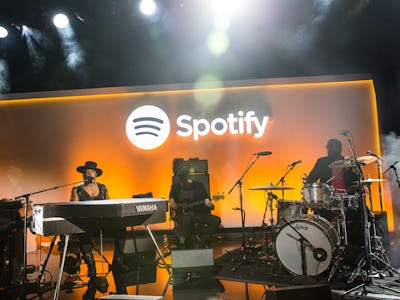 Getty Images
Since the dawn of time, major labels have been — how should I put this? — greedy as everliving fuck. All the technological innovations in the world will never change this, and a leaked contract between Sony and Spotify that emerged today is the latest proof that, even when you think you're putting some money in an artist's hands, you're not.
The Verge obtained the contract, (and was later forced by Sony to remove it from their original story) which reveals that Sony Music was over $42.5 million in advances from Spotify between 2011 and 2013. What's more, Sony was granted $9 million in ad space on Spotify, with the provision that they could sell that ad space for profit to anyone they please — a very lucrative deal that benefits Sony way more than it does Spotify. (You can view the entire contract here)
The contract between the two labels expired in 2013, so it boggles the mind to imagine how much money Sony and other major labels are currently making from their arrangements with Spotify. Whatever the exact figure is these days, it could probably be characterized as "a shitload": although Spotify's Artists FAQ page notes that 70% of the company's revenue goes towards rights-holders, The Verge claims that the company's recent financial disclosures puts that number around a whopping 80%.
Don't feel too bad for Spotify, though: just a few months ago, the streaming behemoth teamed up with Sony to create Playstation Music, a service that allows you to play music while you're gaming (in case "muting the TV and putting on the stereo" previously proved too complicated of a system, I suppose). They may bend over backwards for the corporate overloads of the music industry, but they're far from losers—that's a categorization that artists still unfortunately own in the current market, and it doesn't look to change any time soon, Tidal be damned (right, Lily?).