David Letterman Is Coming Back to TV With a Netflix Series
The late-night legend is will be back in 2018.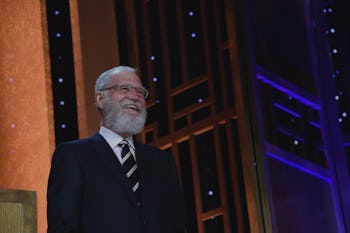 Getty Images / Ilya S. Savenok
David Letterman's retirement from television didn't last very long.
The iconic comedian who rewrote the rules of late night is headed to the streaming platform that is redefining the definition of television. Beginning in 2018, Letterman will star in a new series on Netflix that will focus on the two areas where Letterman excelled:
1. Longform interviews.
2. "In-the-field segments expressing his curiosity and humor," Netflix announced.
The show, which has yet to be given a title, has been given an initial six-episode run.
For 33 years, Letterman subverted traditional comedy and audience expectations, first on NBC's Late Night and then his flagship CBS program, The Late Show. Over the course of over 6,000 episodes — Letterman retired in May, 2015 — he became known for ironically detached gags like "Stupid Pet Tricks," revolutionizing the top ten countdown, and a cast of characters that included his mother, deli owners, and unlikely correspondents dispatched throughout the city. His work earned him 10 Emmys on 52 nominations, as well as two Peabody awards, a Mark Twain Prize, and this fall, a Kennedy Center Honor.
His interviews — when he cared about the subject — were also iconic, and unlike anything else in late night. He could have long discussions with authors, hosted discontents (see: Harvey Pekar), and did not hold back from embarrassing guests he thought were stupid.
In a statement released via Netflix, he displayed his typical self-effacing humor and wit: "I feel excited and lucky to be working on this project for Netflix. Here's what I have learned, if you retire to spend more time with your family, check with your family first. Thanks for watching, drive safely."