'SNL' Star Kyle Mooney Tries to Crack Our '80s Kids Nostalgia
Inspired by Teddy Ruxpin and 'Pooh Corner', Mooney's 'Brigsby Bear' is a twisted throwback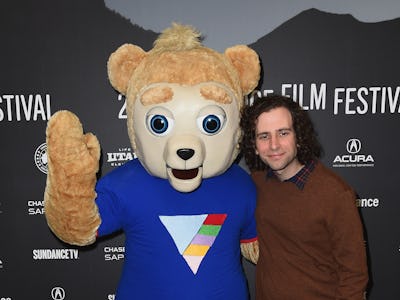 Getty Images / Nicholas Hunt
Kyle Mooney is a 32-year-old TV (and now movie) star, and readily admits to having a poster of the '80s sitcom alien ALF hanging above his bed. And in this pop culture environment, that's actually a point of pride; we are, after all, just days removed from Comic-Con, the annual event that this year inspired 130,000 hardcore geek fans to spend four days in an over-crowded convention center. Obsession with a pop culture property is now something to proudly display, with costumes and collectors' items, not hide away in shame. And bonus points if you're obsessed with a retro movie or TV show; those get you even more street cred.
It's in this cultural environment that Mooney's new film Brigsby Bear hits theaters, and potentially, the cultural zeitgeist. The actor/writer is best known for his work on Saturday Night Live, in which he's taken absurdist premises and awkward deliveries into some of the best (and weirdest) sketches of the last four years, and Brigsby borrows some of that sensibility. The movie debuted at this year's Sundance Film Festival, where it surprised and delighted the audience with its unique blend of quirk, irony, and earnestness.
"I kind of had the general seed of the idea of this kid who's obsessed with this TV show, and that he's like maybe the only person who's ever seen it, for a while," Mooney told Inverse earlier this month. In 2013, he pitched the idea to his friend and co-writer Kevin Costello, and the two worked on it in between seasons of SNL. The final product, directed by Mooney's creative partner and fellow SNL writer Dave McCary, is about a young man (played by Mooney) who grows up obsessed with an '80s kids TV show called Brigsby Bear Adventures. It's his entire life… until he goes through a seismic shift that changes the very foundation of his existence. He even learns that Brigsby Bear Adventures was not what it seems. The movie co-stars Mark Hamill, Claire Danes, Michaela Watkins, and Matt Walsh.
Sundance audiences had the good fortune of not knowing anything about the movie before seeing it, and given its twists and surprises, that's the best way to see it. So we'll leave the synopsis at that, and get to our conversation with Mooney about the film, nostalgia, and the realities of reboots.
I think people our age and maybe a little bit older have a giant nostalgia for things from the '80s. Maybe it's because those things are now available on YouTube and DVD.
Yeah. I don't know what it is. Certainly, I'm a very nostalgic person, and the shows I grew up on or the action figure, it's like Transformers or He-Man or whatever, those type of things, I'm like still obsessed with. Maybe it's just the merchandise was so well-done. Something about it just really kind of made an impact on a brand.
I don't know what it is. Maybe I should not know as much as I do about Godzilla, being an adult man with a job.
It's intriguing now, because the stuff comes back and they're constantly trying to repackage it or resell it to us, but I'm never fully on board with the way they do it. You know what I'm saying? It's like a Transformers, for instance. I've never even seen one of those movies, but I could tell you that I probably would not [like it].
My theory is that we liked it back then mostly because we were dumb kids, which is fine! But it doesn't always work for adults.
Yeah, I guess that's the other element. When you revisit this stuff, does it hold up?
Was there a commentary you wanted to make on how everyone our age is obsessed with that sort of stuff?
I don't know that I went in to make any sort of commentary, per se. There were things during the process of writing that I feel like we discovered, like, "This is an interesting thing that we're saying here, and this is like true to us." More so, similar to what we were just talking about, I am a nostalgic person and it kind of was just easy for me to write that story. Because in the same way that James is obsessed with Brigsby Bear, I feel like I'm obsessed with '80s and '90s children's TV shows and VHS tapes and stuff like that. I'm a fan just like him, I guess.
I'm a fan of stuff. I've got three Godzilla posters in my apartment. But some people really collect.
Totally. I also have an ALF poster above my bed and a Mickey Mouse poster. But I don't have action figures in plastic cases all over my apartment or anything like that.
There's been a debate in my office amongst people who have seen the movie, over whether it's a love-letter to nostalgia or something more cynical, about how he bases his life around a fictional TV show.
I don't know that we thought specifically about [the cynical take], but I think that is a takeaway you can have. Because this thing, this TV show that the character is obsessed with, ultimately it's connected to something super dark, and it kind of takes him almost … It's almost like a therapeutic session of him working his way through his life, through this thing, and at some point maybe, yeah, you can give it up.
So did he exorcise it, or is he enslaved by it?
That's for you guys to decide and write about and tell me.
You liked He-Man and Transformers, but the movie also reminded me a lot of the things I watched as a really little kid, stuff like Wee Sing. I don't know if you remember those videos.
Of course, yeah.
And Brigsby Bear Adventures had a DIY vibe because it was something one man was making. Was that part of the aesthetic you were going for?
I for sure have some Wee Sing tapes and I would not doubt that it probably did. Right before we started shooting, we were constantly throwing references to our cinematographer or our art people, and there was definitely a moment where I was just digitizing VHS tapes, live action kid stuff.
There's a couple that we would go back to. There's this live action Teddy Ruxpin special that was made in the mid '80s that we constantly used. I really like this show, as a kid, called Welcome to Pooh Corner, which was on the Disney Channel. It's like a live action Winnie the Pooh show. It's not far off from what Brigsby is. It's like a walk-around, animatronic dude in a Pooh Bear outfit, and the sets are kind of janky.
Oh I remember that one for sure. The backgrounds were clearly painted. There was green screen back then, but they decided, screw it.
There was something charming about that, too. You know what I mean? Because even as a child, you can kind of tell, like, "I know you guys can do better than this."
Exactly. Maybe it was comforting because it felt low-key and close to home, like that place really existed.
I don't know if this is a total parallel, but I feel like the charm of, say, stop motion animation, you could argue, is that you kind of get to see the process a little bit within it when you're watching it, and I feel like that's sort of similar. You know what I mean? You can imagine building and painting that set.
Brigsby Bear hits theaters on July 28th.