Why the 'Daredevil' Star is Always Pushing to Change Daredevil
Charlie Cox has gotten better at playing blind. Now other things have to change.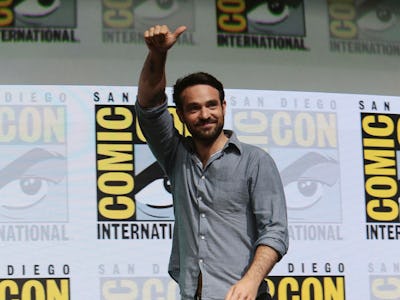 Charlie Cox's portrayal of Daredevil rescued the character from cinematic purgatory and helped establish Marvel's foothold on television. And now, in his third go-round as the blind vigilante protector of Hell's Kitchen, Cox is finally starting to feel comfortable in the role.
"I think the technical stuff, I'm getting better at it," the 34-year-old British actor told Inverse during a conversation about The Defenders at San Diego Comic-Con. "I have to think less about it, which as an actor is what you're always aiming for, because you want to be thinking about the feelings and not the technical side of your job. So that's gotten a little easier, as well as playing someone who is visually impaired, doing the accent, using a cane, and all that stuff."
That's a dream for a performer with so much to do, making unconscious things that require constant awareness and rigorous attention to detail. And this new second nature came at a crucial time for Cox, as co-existing with the superhero (and his alter-ego, Matt Murdock) allowed the actor to focus on new challenges presented in The Defenders series.
First and foremost among them were the much more rigorous and detailed fight scenes staged in The Defenders, a series that brings together all four of Marvel's Netflix heroes after five solo seasons. Cracking the skulls of bad guys was an increasingly coordinated affair as the series wore on, necessitating a blend of different fight styles, disciplined cinematography, and a lot of retakes. Cox had to work alongside co-stars Krysten Ritter (Jessica Jones), Mike Colter (Luke Cage), and Finn Jones (Iron Fist), and a big part of the job became about helping make them look good — a new experience for a guy who has been the undisputed star of 26 hours of solo ass-kicking TV.
"When we do a fight scene in Daredevil, it's me versus a lot of bad guys, who are stunt doubles. They can be moved and placed, and it's me or my stunt double that has to be consistent in those moments," Cox explained. "Doing The Defenders, the choreography involves four of us sometimes, and that is really complicated. If there's a particular sequence that my character does, if in the background you see Krysten, then she needs to be getting her part right as I'm getting my part right. And when you put two additional actors into the mix, it really just required a lot more precision. The choreography had to be immaculate. It was a really fun challenge but very hard."
Being more intimate with Matt Murdock also presented new internal challenges. As much as The Defenders is a team-up show, the characters also continue their own journeys when they're not working together to stop a new major villain. Daredevil is Marvel's only Netflix show to have aired two seasons already, which means Murdock has weathered far more drama than the other characters. That's allowed fans to get more involved in his story, which creates both more realistic and more exhausting circumstances for the people telling it.
"What's difficult for an actor sometimes in a TV show, even one that's brilliantly written, is that I've played this character now for 31 hours," Cox said. "Life can be like this, so it's not a criticism in any way, but you have to rehash feelings. Myself included, sometimes your life is just in a pattern of the same problems and mistakes. In terms of the show, I've got a lot of scenes where [Murdock's former legal partner] Foggy is mad at me, and I'm trying to defend myself. In those scenes, I'm trying to find new and interesting ways to play that."
The strained relationship between the two former best friends and law partners is revisited early on in The Defenders, and though the circumstances have changed, the characters are still carrying their backstories. As Cox notes, that has a way of keeping interactions the same, should the people writing the dialogue not be focused on making sure characters don't fall back into their established roles.
"I'm always communicating with the writers and trying to make sure that, if we're going to have a scene where Matt goes back and talks to [his local priest] Father Lantom again, and he's going to talk about the guilt he feels, that's fine, but I need his attitude to have been somewhat changed based on recent events. Otherwise I start to be frustrated for the characters," Cox explains, careful not to project obvious frustration with the finished product.
"It's OK for them to be in a rut, but when you've got something like the end of Season 2 of Daredevil, where Matt failed himself and the people he loves, that changes you forever," Cox adds. "So your attitude going forward has to be at least changed to some degree."
Cox teased that such a transformation will indeed happen over the course of The Defenders, brought on in part by Murdock's interaction with the other heroes.
"The best fun that I had were the scenes where the characters start to get to know each other and they interact for the first time," he says. "I love the dynamic Matt has with Jessica. They initially clash, and don't have any interest in being friends. They kind of discover against their will almost that they like and respect one another."
And when the season is over, and Daredevil goes his own way, an even bigger transformation may occur.
"I think Matt will have to reconsider everything to this point," he teases, "and in a very profound fashion."
Marvel's The Defenders hits Netflix August 18.