Margaret Atwood Wants a Drake Cameo in 'Handmaid's Tale' Season 2
From Gilead to "Passionfruit"?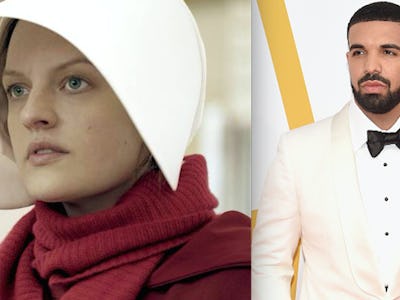 Hulu/Getty
Since the second season of The Handmaid's Tale is going beyond Margaret Atwood's novel, the possibilities about what might happen next are endless. One that nobody guessed? Drake could be in it. That's right, the artist behind "Hotline Bling" could play a role in the classic feminist story.
In a Boston Review interview with author Junot Díaz, Atwood got into a tangent about Canadian celebrities after Díaz observed how "it seems like currently Toronto—and we could say by extension Canada—has two global superstars: Margaret Atwood and Drake."
Atwood responded,
I haven't met Drake, but I have of course met people who have met Drake. But you have to realize how o-l-d I am. I'm not likely to go to the same parties. Or many parties at all, to be frank. Wouldn't it be fun for him to have a cameo in season two of The Handmaid's Tale? I'll drop that notion into the ear of Bruce Miller, the showrunner, and see what he can do with that, because of course the show is filmed in Toronto. Maybe Drake could help smuggle someone?
Season 1 of Hulu's adaptation of Atwood's novel involved June's husband Luke escaping across the Canadian border. A flashback to their life as a family showed June and Luke staying with a friendly smuggler before June was unfortunately caught. At the end of Season 1, June's friend Moira also escaped to Canada, where she met a friendly refugee officer.
In short, there are plenty of smuggler roles for Drake to play. Perhaps he can be in charge of the official welcome dance for those who escape Gilead.
Hulu has not yet announced a release date for The Handmaid's Tale Season 2.