5 Upcoming Dark And Twisted Netflix Shows To Keep on Your Radar
Miss 'The OA'? There's plenty to tide you over until Season 2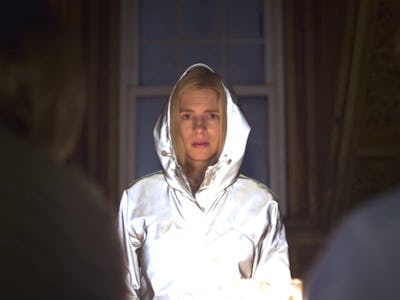 Netflix
Netflix has been on a roll with original series, between long-running shows like Orange Is The New Black and classics like The Unbreakable Kimmy Schmidt. But as fun as its comedies and dramas are, there's a host of dark and twisted originals on the slate. If your tastes veer more towards The OA than Kimmy Schmidt, here are five upcoming shows to keep on your radar.
1. Osmosis
This eight episode French sci-fi show, set in near-near-future Paris, is about a dating app that finds you a perfect match with 100% accuracy by using data from your brain. The catch? Well, an app having access to your entire brain won't exactly go as planned… The impending series is already being hailed as the "French Black Mirror", but the subtitles can help you feel more sophisticated. , but the subtitles can help you feel more sophisticated.
Release date: TBD, but production starts in 2018.
2. Kiss Me First
Adapted from a popular novel, this show will be a more tech-focused and sinister Thirteen Reasons Why. Like Thirteen Reasons Why, it's based on a popular book of the same name and involves teen girls and an ongoing mystery about what led to the death or disappearance of one. Kiss Me First, however, also deals with gaming and identity theft. It's set for six episodes, written by Skins's Bryan Elsley.
Release date: TBD.
3. The Witcher
Adapted from a popular dark fantasy franchise that includes novels and video games, The Witcher is Netflix's real shot at having their own Game of Thrones. It's set in a Lord of The Rings-esque war torn world teaming with werewolves, elves, and dwarves, and is about a badass monster hunter.
Release date: TBD as it was only recently announced, but this is definitely one to look out for.
4. The Haunting of Hill House
Shirley Jackson's 1959 novel of the same name has also had two film adaptations — The Haunting in 1963 and 1999, respectively — but this is its first television show. It's considered one of the greatest ghost stories of the 1900s and is set to star Game of Thrones's Michiel Huisman. It's lauded for its reliance on psychological suspense rather than overt horror.
Release date: TBD.
5. Alias Grace
The world might be buzzing about The Handmaid's Tale series on Hulu, but another dark and twisted Margaret Atwood adaptation is incoming. Starring Anna Paquin and directed by American Psycho's Mary Harron, it's about a late 1800's murder case probing whether a servant murdered her employer.
Release date: Fall of 2017.
And of course, the second season of The OA is on the horizon.