Here's What We Know About 'Luke Cage' Season 2
A new villain and a rumored long lost sister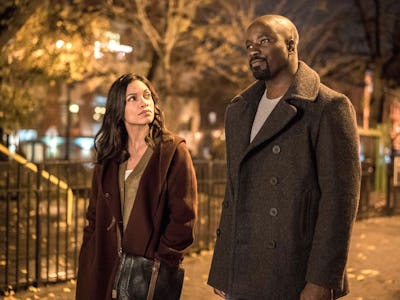 Netflix
The first season of Netflix's Luke Cage ends with the bullet-proof superhero going back to Seagate prison. Dillard loses the files proving that Luke is innocent, and federal marshals arrested him for escaping. There's a silver lining though — because Rosario Dawson's Claire Temple promises to get her lawyer friend Matt Murduck to help release him.
Season 2 will pick up after The Defenders airs this summer, which will naturally inform its plot. In The Defenders, Luke will team up with Matt Murdock, Jessica Jones, and Danny Rand to fight The Hand. His allies Misty Knight and Claire Temple will also appear. Showrunner Cheo Hodari Coker has said Season 2 will not be strictly reactionary to the events of The Defenders, however.
"It's like the Wu-Tang," he told Screenrant. "You've got the Wu-Tang Clan record, which is what The Defenders represents. Say that Luke Cage is Ghostface, say that Jessica Jones is Method Man. It's like they're all kind of part of the same clique, but each record sounds different."
It remains to be seen how the complicated Marvel timeline and the ensemble show will impact Luke Cage, then — especially since the season is keeping its cards close to its chest. But Luke's identity struggles will remain a large aspect of Season 2. In Season 1, he struggled with the public versus private nature of his superhero identity coupled with his rocky past.
At a convention in Houston, star Mike Coulter said about Season 2, "He's out. People know what he looks like. He's not in any kind of disguise. People know where he lives. They know where to find him so it's something he has to deal with. Most superheroes don't have to deal with that and can kind of keep it separate."
Personal dimension aside, the threat level will also be amped up in Season 2. Not only is Theo Rossi's nefarious Shades returning, but there will also be a new villain. It's rumored that Bushmaster from the comics will pose a threat. He's a Caribbean crime boss who kidnaps Claire Temple in order to use her against Luke.
Most intriguingly, Luke has a brother in the comics, but the role is reportedly being gender-flipped for the show. A long lost sister would certainly complicate Luke's life even more.
Luke Cage Season 2 does not have a release date yet on Netflix, but star Mike Coulter has said it will be in 2018. The Defenders premieres August 18, 2017.