Everything We Know About 'The Handmaid's Tale' Season 2
From locations to characters.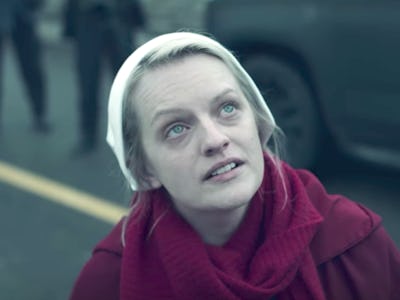 Hulu
Now that Season 1 of Hulu's The Handmaid's Tale is over, Season 2 looms ahead, and it is as mysterious and shadowy as the secret police vans in Gilead. Season 1 covered the entirety of Margaret Atwood's novel, and Season 2 is going off-book. But there's actually a surprising amount of information out there about where it might be heading.
Spoilers ahead for the end of The Handmaid's Tale Season 1.
The end of the first season is faithful to the end of Atwood's novel — the secret police, the Eyes, finally come for Elisabeth Moss's June, better known as Offred. Her lover Nick tells her to trust him and go with them. She's carted away in a van, either to her doom or salvation.
But the show is less ambiguous than the novel about whether she's in peril or saved, because the question of her safety hinges on whether Nick is trustworthy.
In the novel, their relationship is more sexual and less emotional. In the show, Nick clearly has feelings for Offred, and he's visibly touched by the news that she's pregnant with his baby. It's highly unlikely, then, that he's sending her to her doom.
Offred's obvious safety aside, here's what else we know about Season 2.
Characters
Although Offred and Moira (Samira Wiley) were unquestionably the heroes of Season 1, there were also unexpected characters who quietly stepped up to the plate, like Ofglen #2.
The trend of quiet and unexpected people playing key roles in the resistance will continue in Season 2. As showrunner Bruce Miller told The Hollywood Reporter, Season 2 will elevate many of the first season's side characters. Serena Joy and Commander Waterford will still be present, as will Luke and Moira.
But most noteworthy are Miller's words on Rita, the Martha in the Waterford household. At the end of Season 1, Offred embraced her as she was carted away. She also entrusted Rita with the secret notes and cries for help from past Handmaids. That will play a role in the second season, Miller maintains.
"Very slowly you get to know the character, you get to know her moral compass" he said. "It's been great for us that it's been such a slow and careful building of a relationship between Rita and Offred. That…leads to a payoff so that we can use her more in season two."
Location
Season 1 went off-book in introducing the Mexican ambassador and featuring a Canadian community of refugees from Gilead. The novel contains an epilogue that jumps years into the future, featuring a professor lecturing an audience about the harsh conditions of Gildead. This epilogue wasn't in the show, but it implies that the reign of Gilead is temporary and the world has a greater scope than Offred can see. Season 2 will undoubtedly feature a wider world view, especially of Little America (in Canada), where Moira and Luke were reunited.
However, there are also locations in the world of the novel that the first season didn't touch upon. Most notably the Colonies, where women who don't fit Gilead's standards — or refused to adhere to its rules — are sent for punishment. They're supposedly miserable places filled with toxic waste and hard labor. Life there is nasty, brutish, and short.
In her own interview with The Hollywood Reporter, Elisabeth Moss cited the Colonies as a novel setting the show will dive into in the future. "There are so many lines from the book we haven't said in the voiceover and so many things we haven't explored, like the Colonies," she said.
Structure
Expect Season 2 to have a similar structure to Season 1: a character-rich plot that is heavy on flashbacks, even as the present day advances. Among those flashbacks? Elisabeth Moss cited backstory about June's mother.
Season 1 of the show didn't touch upon it, but in the novel Offred's mother is a revolutionary and a feminist freedom fighter. In her day, she participated in marches for women's rights. Offred frequently spends time reminiscing about her mother's fiery attitude and lamenting her own failure to learn from it or appreciate it until too late. While the bulk of the first season's flashbacks featured June's husband and daughter, expect the second season's flashbacks to center around her mother.
As The Leftovers demonstrates, continuing a show beyond the scope of its source material can yield extremely positive results, especially when the author is involved — and Margaret Atwood is.
The Handmaid's Tale has been renewed for a second season at Hulu, but there is no official word on a release date yet.