The Finale Script of "Orphan Black" Left the Crew Speechless
"People were choking up ... and then when it ended, there was just silence."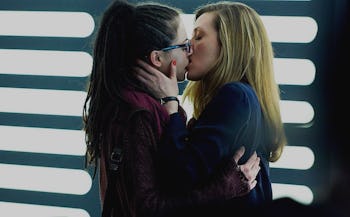 Orphan Black showrunner Graeme Manson knew exactly how he wanted the show to end when he pitched it to BBC America years ago — even though the clone thriller ended up going longer than he expected.
"I mean, we had, sort of, lied to BBC America," Manson told Inverse. "We had, sort of, conceived three seasons so we could talk about three pretty well with an endpoint. And then what sort of happens is you end up sort of fattening it out as you go."
Manson and co-showrunner John Fawcett had enough ideas for two more seasons, but with their fifth season pick up, they went to BBC America to tell them it would also be their last.
One of the perks of "canceling yourself" so-to-speak is that Manson and the writers had some breathing room as they prepared to tackle the show's swan song. "This year we were able to not spend the first two or three weeks of the writer's room thinking about what happens in the next season, we were able to go okay, 'there's our end point,' and really sort of dig into it," Manson said.
Since Manson and co-showrunner John Fawcett had the show's bookend and conspiracy plot figured out, they focused on not the ending of the show per se but resolving the clones' emotional arcs. "Season 5, it was really wrapping up each of the character arcs and each of the character relationships so that each character, sort of, got their due," Manson said. "We wanted a season, a final season that offered more insight into the characters than we knew already about them."
The showrunner promises that each major clone has "something really satisfying to go out on."
"We did these final episodes so that each main clone got their own character-centric episode," Manson said. "Season 5 is little less ensemble than the episodes usually are, so we got to crack open a deeper understanding of what makes each of them tick, and then we really wanted that great final closure for each of the characters."
One thing Manson wishes he could have squeezed in over five seasons? More scenes with the entire clone family. "They're time-consuming and we just don't have the time to do that on the schedule that we have," Manson said. Tatiana Maslany's got to eat and sleep sometime, so Mason and company were always careful to make sure each clone scene "created the feel of family" and brought out new and interesting family dynamics. "We had to be really were efficient and have really good story reasons to do a clone scene. Usually it'd be 'Hey, we haven't done that before' or 'How do we one up ourselves?'"
Manson knew going into Orphan Black in Season 1 that each clone couldn't just be a visual gag of how different (and delightful) Tatiana Maslany looks in wigs. With that in mind, he hinted that fans wouldn't meet new clones in Season 5. "We really wanted each of those characters to have their own satisfying story, find a niche that we hadn't found before, but still fit into the overall plot," said Manson.
"And so, it's kind of hard in the fifth season to come up with a new character like MK that's not treading on the other clone's tails and that actually has a really good story function. The clones that we introduced in the last two seasons, largely Crystal and MK, they were almost like supporting cast for the clones, you know? We were always aware that you do it too much and you're diluting the power of the core — Sarah, Cosima, and Alison augmented by Helena in opposition to Rachel."
By keeping the number of clones and plotlines tight, Manson, Fawcett, and company hope to avoid the pitfalls of other legendary sci-fi shows like Lost and Battlestar Galactica. Orphan Black aired just long enough to build a loyal fandom but unlike the aforementioned shows, not so long that it got bogged down by mysteries that had no resolution. For Manson, there were more important challenges to tackle. "All of us felt like we should honor the fans, you know?" said Manson. "That doesn't mean pander, or change the story — we just felt that within the themes and politics of the show we had a responsibility to these young fans, especially women and the LGBTQ+ community, to tackle body autonomy and keep it relevant and fresh for them."
In that vein, Manson promises some of Orphan Black's best is yet to come: "I really particularly think that the final episodes of the season — seven, eight, nine, ten — are some of our strongest work."
The final episode, in particular, was emotional for the crew. "There were definitely moments there where people were choking up during the table read of the final episode," Manson said. "And then when it ended, there was just silence and we all kind of sat there. And we just kind of sat in silence, a moment of respect for putting it all to bed. And then, slowly people started to speak. People piped up. I said a few words and so did John. Tatiana did as well."
Manson knows he still has several more goodbyes to say, especially to the fans as the fifth season airs, but he's glad for the bitter that comes with the sweet. "We kept almost our whole crew in tact for the five seasons which is pretty amazing," Manson said.
"I'll always remember that and use what I learned to try and reproduce it. I'm gonna miss writing these characters. It's been a rare treat."
Orphan Black airs Saturdays at 10pm EST on BBC America