When Will 'Orange Is the New Black' Season 5 Be on Netflix?
Litchfield will never be the same after Season 4.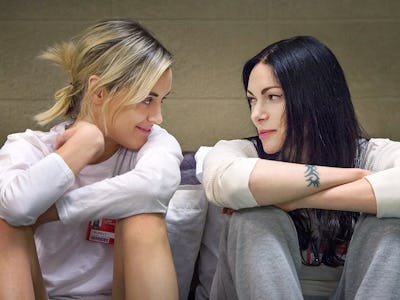 Netflix
The fourth season of Orange Is The New Black ramped up the tension between inmates and guards at Litchfield till it came to a boiling point. The story picks up immediately from the cliffhanger, in Season 5, when the show returns to Netflix on June 9. For diehard fans on the East Coast, it's dropping in the early hours — 3 a.m. to be exact — so prepare for a late night on Thursday if you want to start binging right away.
Season 4 took the show in a tense new direction, thanks to Poussey's (Samira Wiley) shocking death. In response, Poussey's best friend Taystee leads the prisoners on an angry march.
The fifth season will take place over the course of just 72 hours, picking up immediately where Season 4 ended. It will follow the inmates as they riot and continue responding to Poussey's death. Expect the cheerful and fun Taystee from earlier seasons to be long gone.
Sophia (Laverne Cox) spent most of Season 4 in isolation, and went down a dark psychological spiral as a result. As the seasons ended, she finally got her salon back, so Season 5 might be looking up for her.
Riots aside, Alex Vause (Laura Prepon) is also in hot water going into Season 5, because Season 4 saw her murder a hit man who was sent after her thanks to her cartel ties. Although she wasn't caught, she can't exactly relax yet.
Orange Is the New Black returns to Netflix on June 9.