'Game of Thrones' Featurette Shows Characters Absent From Trailer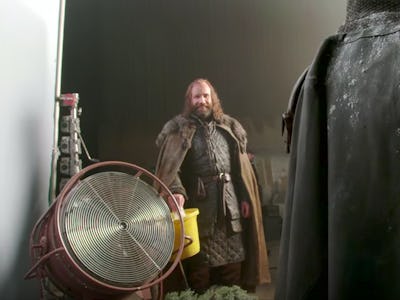 HBO
The epic, battle-heavy trailer for Game of Thrones Season 7 focused on the three big power players who are currently struggling over leadership: Cersei Lannister, Daenerys Targaryen, and Jon Snow. Arya, Sansa, Tyrion, and Jaime made appearances, but several notable characters were missing.
But a new featurette of the costumes on Game of Thrones includes tantalizing glimpses of characters who were MIA in that first trailer.
Called "Inside Game of Thrones: A Story in Cloth," the video focuses on the fashion of Westeros and Essos. It includes behind-the-scenes Season 7 footage that gives a peek into several characters' new looks and locations in the upcoming season.
Here's a glimpse of Jon Snow's sassiest ally, Lyanna Mormont. Note that Brienne is there, too. It looks like the scene picks up right where Season 6 ended, with Jon's Bannermen gathered in Winterfell, hailing him as "King in the North!"
Here's a look at Sandor Clegane, aka the Hound, who triumphantly returned in Season 6 after being (almost) mortally wounded at the end of Season 4. Last year, he joined forces with the Brotherhood Without Banners, the outlaw group from Season 3. Judging by his new cloak and the snow, Sandor Clegane broke free of the brotherhood, or else the whole group is traveling to the far North for unknown reasons.
Check out the entire video below, where you can also see Jon Snow and Tyrion walking dramatically against ocean backdrops.
Game of Thrones Season 7 premieres July 16 on HBO.