Twitter Is Going Crazy About 'Wonder Woman'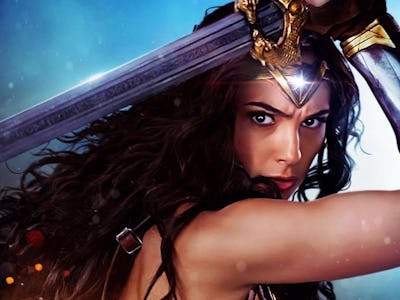 Warner Bros 
Wonder Woman isn't just an ass-kicking hero with a cool outfit and a shield. The current incarnation of the Amazon Princess, played by Gal Gadot, makes her solo film debut in DC's Wonder Woman in a flurry of firsts.
She's the first female superhero to get her own film in either the current DC or Marvel Cinematic Universes. Wonder Woman is also the first big-budget modern superhero film helmed by a female director, Patty Jenkins. And whether or not you agree, the critical consensus is that Wonder Woman is the first big win for the DC Cinematic Universe, after entries like Suicide Squad and Batman v Superman were met with less than stellar receptions.
Wonder Woman is also the lead-in to DC's big group movie Justice League. That's not even mentioning the fact that it's the character's first live-action solo outing on the big screen since her conception in 1941.
For all of these reasons, Wonder Woman is important — and social media is taking notice. Twitter is going absolutely nuts over Princess Diana of Themyscira.
Some viewers are focusing on Wonder Woman's place in the DC Cinematic universe and its comparison to prior DC films.
Some people are massive fans who feel emotional at seeing Diana on the big screen in her own movie for the first time. Tears are being shed.
Others are focusing on Wonder Woman's status for what Diana represents as a character and what the film represents as the first critically acclaimed big budget female fronted, female-directed movie in the current superhero era.
And some are just having a blast thinking it's a damn good movie.
Wonder Woman is currently in theaters everywhere except Lebanon.