This Indie Developer is Remaking the Best 'Star Wars' Game Ever
It's just not the one from BioWare Austin you've been hearing about.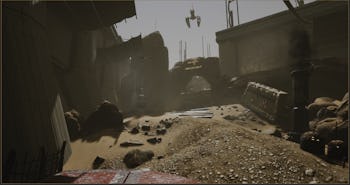 'Apeiron'
As Lucasfilm plots the future of Star Wars, the Atlanta-based video game development studio Poem Games is rebuilding the saga's past. The company is in the process of remaking one of the best Star Wars video games ever, Knights of the Old Republic, a labor of love that's over a decade in the making.
The game puts you in the boots of a seemingly anonymous kid living in the midst of a galactic civil war over 4,000 years before the Star Wars movies.
Just like Luke and Rey, you come to realize you have a deep connection to the Force, and you set down a path that grants you your own lightsaber — with custom color, length, fighting style, and 1- or 2-sides — and the choice to side with either the Jedi or the Sith. The story is long and deep, the characters rich and colorful, and the worlds familiar but varied; it's basically a megafan's wet dream. The thing is: It's almost 15 years old, and it's long overdue for some manner of update. That's where Taylor Trotter and Poem Games comes in with their remake, dubbed Apeiron.
"Apparently there are different entities that make up the Force," Trotter recently told Inverse. "'Apeiron' is one of them."
The Greek word apeiron means boundless or limitless, but in the Star Wars extended universe, "aperion" — according to Darth Plagueis, anyway — was the term used for the parts of the Force that unified all physical matter. It's a force of cohesion, like gravity itself, and a fitting term for a project of such ambition.
Apeiron is a rebuild from the ground up that works in concert with the base version of the original game that exists on Steam. Work on the project is done on a volunteer basis, and Apeiron is technically billed as a "total conversion mod" that will be given away for free — as long as you already own the base game, which currently costs $9.99. The mod will essentially replace all of the in-game objects with updated graphics while maintaining the original story structure and audio components.
"Meshes, lighting, animations, and all of those organic assets will be replaced," Trotter explained. "All of those have to be made from scratch." Because it's a "mod" not collecting any profits, Trotter and the rest of the development team don't expect any legal trouble; comparable mods have been permitted in the past.
This rebuilt version of the game will also restore cut content. "Sleheyron was kind of this lava planet that was cut from the original. There's also Deadeye. In the original game, he was the first opponent you fight in the Taris arena. You actually meet him again on Manaan, and you have this interaction with him that was also cut."
Beyond updating graphics and restoring old content, there's also a certain extent to which the Apeiron team is expanding existing worlds and environments. One expanded environment is a prominent location on Dantooine. "Whenever you left the Jedi Academy," Trotter explains of the planet, "you were in a low area between high-rise cliffs between points A and B. In Apeiron, that's open, wide open. There are no load screens and the horizon has been enhanced and expanded. I don't want to use the term 'open world' because that's overkill, but it's definitely more open and continuous with no loading screens."
The hope was to eliminate "invisible walls" that so often stand between a gamer's avatar and the feeling of true freedom. They want a more naturalistic experience for players that might have felt justifiably constrained 15 years ago with the original. It's been a long time since the original Knights of the Old Republic came out. So why now?
"I was living in China on the Mongolian border — as all great stories start out — and playing KotOR (pronounced "koh-tour") on my laptop," Trotter explained, dating the realization back to 2011. "I remember thinking, 'Someone should continue this legacy.' The game is so good that I thought somebody should do something with it." He was talking about sequels or remakes, anything really. At the time, the then-new The Old Republic MMO was banned in China, so he was feeling a particular sense of FOMO.
After a while, Trotter began to think that he should just do it himself. It just took awhile for him to get himself in position to tackle the project.
Fast forward six years and Trotter has evolved from a designer into a full-blown creative director and video game developer. With an all-volunteer squad and high ambitions, it's still bound to be awhile before the game is released. And Trotter is banking on avoiding copyright issues because the game will be completely free and billed as a total conversion mod or "refresh" piggybacking off the Steam version of the original.
Largely because it's Star Wars, there's a huge amount of pressure to "get it right," and Trotter will sometimes spend up to 12 hours a day coding and building environments. "Video game creation is oddly addicting," Trotter explained, "especially as the game starts shaping up and you get something real on your hands." That's exactly where they are now. "I worked on it by myself for nine months to a year, working eight-hour days after getting home from work, just refining and learning, reading tech sheets, and immersing myself in this world. That snowballed itself. Now we have a full seven-man team and projection goals — and it's all going really well."
According to Trotter, early images and demos of environments have changed, especially in the past six months. "We've changed a lot of aesthetics of the design. During the mesh phase we originally had, we took into account the public's reaction. We weren't getting the feedback we wanted. People said it was cool, but we don't want to make just a 'cool game.' We want to make the perfect Star Wars game." And because it's Star Wars, the pressure is that much higher. "If we're just 'okay,' nobody is going to take us seriously on our next game. Failure is not an option, but neither is mediocrity."
That quest for perfection has led to a lot of sleepless nights, even now that he has a team working with him.
"We'd pause on a wide pan shot from the movies and work off of that," he said. "And then It'd be me at my computer at 3 o'clock in the morning thinking 'Why can't I make houses look like that on Tatooine?' or 'Maybe I should spend the next six hours making dirt?' Just testing out different kinds of dirt."
But that tedium seems to have paid off, albeit at a relatively slow pace. Though Trotter feels that it's premature to talk publicly about goals and dates, he assured me that serious progress has been made. Many of the visual assets have been finalized, and they've also begun some of the back-end work like the coding of the inventory and leveling up systems. Ongoing progress is typically put on display via the official Apeiron Twitter account, like the following Alpha character creation screen:
Though there's no publicly available release date for Apeiron, Trotter is always looking beyond the game, teasing a future non-Star Wars, non-sci-fi project on the horizon that he himself is already writing. For the time being, fans can watch live development on Trotter's Twitch page, follow the Apeiron account on Twitter, or sign up for their email newsletter.
Update May 2, 2017: Story has been updated with new visuals from the developer.
We are shining a spotlight on some of the millions of small businesses now challenged by Covid-19. This is part of an ongoing commitment our parent company, Bustle Digital Group, is making to support small businesses throughout the entire month of May. Tell us about your favorite small business on social media using #SmallBusinessSalutes.