'The Ex Collection' Recycles Your Ex's Trash Into Treasure 
Attention, Los Angelinos needing a little catharsis for a good cause.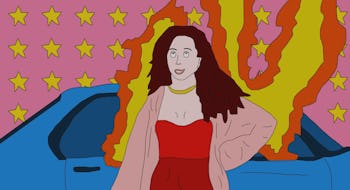 The Odyssey Online
Every once in a while, an experience comes along that makes you forget that the world is in flames and that no one is to be trusted. This week, that sweet relief comes in the form of the Ex Collection, a pop-up shop in Los Angeles that has asked locals to donate all the unwanted gifts, leftover t-shirts, and other memories from their exes. The emotional trash will, in turn, be resold to new owners that won't be quite as, ahem, triggered by them.
The mastermind behind it all is L.A. comic Kayla Rosenberg, who was inspired by her own breakup to take some sort of artistic action. She decided the protests would go to Planned Parenthood, which is now under attack, so what something good could come from what would make a lesser person pull down the blinds and sleep for a good three to thirty weeks.
"I was looking at all my ex's on my walls and wearing this giant shirt, and none of it was mine," she tells Inverse. "And I thought, 'What am I doing? I'm living in a sadness dungeon that I created.'"
People bombarded her with stuff from their exes as the grassroots effort took off, with initial donors spreading the word to the fellow scorned friends who could afford to get rid of reminders of past heartbreak. I too first learned of the Ex Collection through a friend, and quickly compiled some of the remnants from recent relationships to add to the collection.
I put together small piles of both thoughtful and thoughtless gifts given to exes who are members of the impressively large cadre of Los Angeles men who are both perverts and verified Twitter users. Handing the goods to Rosenberg, I walked back into my apartment feeling less like I was trapped in a dungeon, which was a nice first step.
If the ever-expanding Ex Collection is any indication, I'm not alone in wanting this catharsis. The event on Thursday will take place at a local art space Junior High, and big-name comedians like Laurie Kilmartin, Nicole Byer, Jamie Lee and Riley Silverman will donate their time and comedy to make the pop-up shop a full-blown event. RuPaul and Michelle Visage have also donated 25 signed, limited edition "What's the Tee?" posters that will be on sale exclusively at the sale.
"I dont want this shit," Rosenberg said, motioning to the piles and piles of her own ex-trash, "but people have told me these shirts are super cool! They just hurt my heart to look at. So I wondered what other people had these shirts and felt super cool without the heartache sandwich?"
Some of the curator's favorite items include everything from original art to a Razor scooter to black diamond earrings. The pièce de résistance is an unopened, three-piece vibrator with a hilariously tragic story attached to it.
"That was from a woman who was told by some guy she knew from college that he was going to come out to Los Angeles so he could see her and have great sex and all of that," Rosenberg explains. "So he told her to go out and you know, get something sexy, like a fancy toy or something. Then he never came, so she never came."
Many items come with short blurbs about their tragic histories, and Rosenberg has carefully cleaned and curated every product to preserve its sentimental integrity without betraying the identities of their previous owners.
Every penny from the event, including donations made for the comedy show, drinks at the venue, and merchandise Rosenberg made to commemorate the event, will be given directly to Planned Parenthood. For Rosenberg, though, it's not just the good cause that makes the Ex Collection special — it's the experience that comes with it, and the causes go hand in hand.
"In a country where it seems like the government made for the people has no interest in the people, we have to become communities again," she explains. "Making people feel like they're part of an experience is an important part of that … everyone has felt that breakup sadness, or a crush that didn't work out, or having trouble letting go of something. It brings us together."
There's the release that comes with knowing that the stuff and all its unpleasant memories are gone, and will benefit the health of other women. If that's not some healthy revenge, what is?
If you're in the L.A. area and want to get rid of your ex's junk before this Thursday, email theexcollection@gmail.com. The Ex Collection will be held at Junior High on April 13, 2017 from 7 p.m. to 10:30 p.m Eastern, with a comedy show beginning at 8 p.m.