Every Adult Swim Show Ever, Ranked
We went through 16 years of programming to deliver the cream of the crop.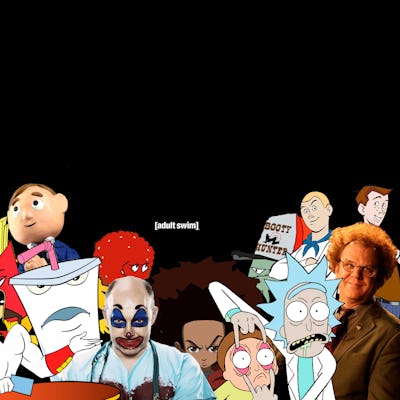 Trey Wadsworth
Adult Swim has been the source of some of the best animated and live-action content for adults for over 15 years, and one of the most frequent magnets for controversy.
While the night-time programming block on Cartoon Network has certainly suffered from its own growing pains and prejudices, there's no doubt that they've been responsible for some of the most innovative and outlandish entertainment of the past quarter-century.
Here's a ranking of our favorites, from worst to best. (This list doesn't include specials, so fans of Dinner with Friends with Brett Gelman and Friends and The Greatest Event in Television History, don't be alarmed.)
51. Million Dollar Extreme Presents: World Peace
And what would a ranked list be without an exploration of an unbelievable misstep on behalf of the network? Million Dollar Extreme blew up online primarily by sneaking their brand of performance art into an official TED talk, but their deeply misogynistic, alt-right tendencies ultimately did them in. The show got heat from major Adult Swim players like Brett Gelman and was the subject of a heated argument between Tim Heidecker and Million Dollar Extreme leader Sam Hyde, and the show was mercifully cancelled a month after Trump's election as president.
50. The Drinky Crow Show
49. Minoriteam
48. Loiter Squad
Starring Tyler the Creator, Earl Sweatshirt, and the rest of the Odd Future rap collective, Loiter Squad is a hard-earned lesson of learning that sometimes, it's better to stay in your own lane. While Odd Future's work has unquestionable self-awareness and humor, which Tyler has demonstrated time and time again onstage and on guest appearances on The Eric Andre Show, Loiter Squad felt more like a fan tribute to some of Adult Swim's better live-action shows than an entity all its own.
47. Stroker and Hoop
46. The Heart, She Holler
The success of Children's Hospital inspired a string of live-action genre parodies (see: NTSF:SD:SUV::) that were well-cast, but the parody itself can't outlast its 15-minute running time. The Heart, She Holler, boasting a cast of big names such as Patton Oswalt, Amy Sedaris, David Cross, and Kristen Schaal, is Dallas run through the standard Adult Swim mill, gross and absurd but nothing to write home about.
45. Saul of the Mole Men
44. King Star King
43. Squidbillies
Though it remains one of Adult Swim's standby shows and has run for ten seasons, there's little that Squidbillies can do that King of the Hill can't do ten times better.
42. Daytime Fighting League
41. Mike Tyson Mysteries
Though some will disagree, we think Mike Tyson Mysteries is a lazy animated concept that leans heavier on the controversy and charisma associated with the title character than solid joke writing.
40. Metalocalypse
39. NTSF:SD:SUV::
38. Tim and Eric's Bedtime Stories
Its best episodes are as good the best Tim and Eric episodes, and its worst episodes feature overcooked, over-produced half-plots that are a waste of time. The T&E anthology series is all over the place in terms of quality and tone.
37. Newsreaders
36. Frisky Dingo
Frisky Dingo, a cartoon that follows supervillain Killface and superhero Awesome X, isn't the best cartoon Adult Swim has produced, but it is an interesting work from the Adam Reed and Matt Thompson brain-force that would eventually create Archer for FX. Between Frisky Dingo and other Reed/Thompson vehicle Sealab 2021, a blueprint for the tone and characters later found in Archer are easy to trace.
35. Lucy, Daughter of the Devil
34. Morel Orel
33. Superjail!
32. 12 oz. Mouse
Often forgotten, 12 oz. Mouse is the animated equivalent of your uncle saying he could paint whatever Jackson Pollack could. Ostensibly made using only crayon and Flash, the series follows the often sad adventures of an alcoholic mouse and the disappointed characters that surround him. It's pretty standard "what if this adult theme were styled like a children's cartoon" fare, but it's a well done one.
31. Mr. Pickles
Mr. Pickles is the best example of the lower echelon of Adult Swim animation: it's still pretty good, but its violence and thin premise (a dog who is violent!) frequently outweighs the funny.
30. Harvey Birdman, Attorney at Law
29. Hot Package
28. Black Dynamite
27. Xavier: Renegade Angel
It's not the best show in the world, but is unique: Xavier: Renegade Angel, the brain baby of Wonder Showzen creators John Lee and Vernon Chatman, follows half-shaman half-human (and a little bit bird) creature named Xavier through a world that looks entirely rendered by a PlayStation 2. While the intentionally incoherent surrealism might not be for everyone, it's one of my favorite tonal and animation experiments Adult Swim has ever taken, though it only survived two seasons.
26. Off the Air
25. Neon Joe: Werewolf Hunter*
24. Dream Corp: LLC
Having just started last fall, Dream Corp is still finding its footing, but its high concept Eternal Sunshine style dream invasion premise mixes live action, animation, and smart writing that makes it one of the better of the new crop of Adult Swim offerings. Oh, and Stephen Merchant produces if that helps.
23. Tom Goes to the Mayor
22.* Brad Neely's Harg Narlin' Sclopio Peepio*
While it could be argued that brilliant animator Brad Neely hasn't quite yet found the narrative animated project that would launch him into superstardom, his output for Adult Swim has been nothing short of impressive. While the fast-paced Harg Narlin' Sclopio Peepio abides by a more sketch-based premise as a less incessantly topical Robot Chicken, Neely's other series China, IL followed a slower, more narrative structure that left some confused. Hopefully he'll get a third series with the network because when Neely is good, he's unbelievably good.
21. China, IL
20. Mary Shelley's Frankenhole
19. The Brak Show
18. Children's Hospital
One of the early live-action shows to break out on the channel, Rob Corddry's Children's Hospital ushered in a slew of network genre parodies, but remains the strongest of the bunch. Pulling from the overdramatic network medical series like Grey's Anatomy and ER, the show is probably most notable for the incredible number of high-profile guests playing characters against type. This plus the core cast of Corddry, Rob Huebel, Ken Marino, Erinn Hayes, Megan Mullally, Lake Bell, Henry Winkler, and Michael Cera were the glue (or not!!!) that kept the show running for seven strong seasons.
17. Robot Chicken
Love it or exhausted by it, you can't talk about Adult Swim programming without giving Robot Chicken its due. The series has survived over 150 episodes, ten specials and won five Emmys, providing Seth Green with the nest egg that he can ride out for the remainder of his career (along with all those Family Guy residuals). It uses combines stop motion with topical sketches so effectively and it became one of Adult Swim's earliest juggernauts.
16. The Venture Bros.
Currently holding the distinction as Adult Swim's longest-running original program, The Venture Brothers seems almost out of place with the network's current lineup, but functioned as the more vulgar alternative for a Simpsons or Home Movies fan when it first aired in 2003. The premise is adjacent to your average kid's cartoon: Super-scientist Dr. Venture gets into various hijinks with his two freakishly excitable sons (one who looks exactly like Fred from Scooby Doo) and his bodyguard. The adult elements of Venture, unlike many others on the show, isn't inherent to the conceit of the show, but is found in the plot: frequent instances of murder, drug use and testicular torsion help it earn its place in the Adult Swim canon.
15. Home Movies
14. Decker: Unclassified
13. Too Many Cooks and Other Infomercials
While the release of Adult Swim infomercials is sporadic, they are almost always brilliant. See: "Unedited Footage of a Bear" from Baltimore collective Wham City, "The Newbridge Tourism Board Presents" and, of course, the once-ubiquitous "Too Many Cooks".
12. Aqua Teen Hunger Force
11. Sealab 2021
My beloved Sealab 2021 is another early Adult Swim project that likely owes its roots to the success of Space Ghost: Coast to Coast. It's also one of the only series to migrate to Adult Swim with Space Ghost from Cartoon Network. It's the first high-profile project from now-Archer team Adam Reed and Matt Thompson, whose greatest accomplishment prior to this was getting fired from their previous show for getting drunk and lighting props on fire. Sealab 2021 features the recycled animation technique at its finest, reusing stock footage from the short-lived Hanna Barbera cartoon Sealab 2020 lying around in the Cartoon Network archives and writing in completely new characters and dialogue to reprogram the show. Because of the limitations of only being able to reuse old Sealab footage, there's no continuity from episode to episode, freeing Reed and Thompson to kill off their protagonists and bring them back in the next episode, a luxury they indulge with frequency. Sealab rules.
10. Eagleheart
9. Black Jesus
8. Your Pretty Face is Going to Hell
7. Rick and Morty
Created by Dan Harmon and Justin Roiland, Rick and Morty is Adult Swim's flavor of the moment and with good reason. Originally written as a Back to the Future parody for Dan Harmon's Los Angeles-based showcase Channel 101, the series has grown into a must-watch for fans of the channel, honoring AS's foundation in animation with the gross-out absurd while adding the more vulgar elements its live action programming ushered in during the later 2000s. The project was born after Harmon being fired from his NBC sitcom Community in 2012, and he brought a more narrative-focused story style to the show in a way that most fifteen-minute shows on the channel at the time couldn't deliver. There are long-term story arcs that make the series work in a way that many don't, and Roiland's knowledge and experience in the field of animation and voice acting make the two an unstoppable force at the channel. The series's third season is expected to air sometime this year.
6. Delocated
5. Tim and Eric, Awesome Show, Great Job!
Though they got their foot in the door with Adult Swim with Tom Goes to the Mayor, Tim Heidecker and Eric Wareheim made names for themselves in earnest with Time and Eric, Awesome Show, Great Job!, a 15-minute show that brought a whole new audience and wave of creative influence to the block. Awesome Show, Great Job! introduced a self-aware absurdism that often parodied old soap operas, workout videos and public access shows, usually starring the protagonists with all manner of celebrity guests. It gave the pair a slew of future shows with the network and gave the Adult Swim a new creative roadmap that they follow to this day.
4. The Boondocks
Although the network's representation of female characters and creatives still leaves something to be desired, Adult Swim was quick to recognize that white people aren't the only ones who like to watch television after dark (what? no, seriously). And thus, The Boondocks was born, adapted from the newspaper comic strip of the same name. It was the gentrification comedy that came before Get Out, following the ironically named Freeman family as they adjust to life in a mostly white suburb, Woodcrest. While an unquestionably funny show created by Black Jesus creator and original Boondocks comic artist Aaron McGruder, The Boondocks is as close to controversial and effective satire as Adult Swim has ever gotten, especially during its first season run in 2005 and 2006.
3. Check It Out! with Dr. Steve Brule
Maybe it's sinful to put Check It Out! before its godparent Tim and Eric, Awesome Show, Great Job!, but allow me to make my case. Steve Brule, the spiritually lost public access doctor played by John C. Reilly, was the breakout character of that first series and received his own spinoff in 2010. While the series is basically a Brule sketch that would be found on Awesome Show, Great Job! stretched out to a full fifteen minute segment, it removes all the elements of Tim and Eric that don't age quite as well and retains the gross, clueless spirit that is probably Reilly's greatest role of all time.
2. The Eric Andre Show
When The Eric Andre Show was announced in 2012, its creator and host said the preparation for shooting was to "absorb as much Space Ghost" as he could to bring that same absurdity to his own talk show parody, and it shows. Eric André and co-host Hannibal Burress are the best example of the modern Adult Swim era: It's still silly, it's still satirical, but it's significantly more high stakes and gross. André is constantly throwing himself through walls, participating in hidden camera style on-the-street segments where he gets in fights with everyone, and conducting profoundly uncomfortable in-studio interviews that disturb and sometimes outright upset guests (see Lauren Conrad's interview). The show came as a particular surprise to anyone who was familiar with André up to that point, who had mostly appeared on network sitcoms like Don't Trust the B** in Apartment 23 and 2 Broke Girls. Last fall, Inverse spoke with André about the method to his madness.
1. Space Ghost: Coast to Coast
Space Ghost is one of the only shows to jump seamlessly from Cartoon Network to Adult Swim with little to no growing pains, as it jumped to the adult block's debut in 2001. It also remains one of the few pieces of Adult Swim pieces that doesn't require a taste for the completely depraved absurdity that has accompanied series in more recent years, nor does it have the strict limitations of parody found in later live-action shows. Space Ghost set the precedent for a number of critical Adult Swim standbys that linger to this day: talk show parody, mixing live action and animation, celebrity guests, superheroes that aren't quite superhero-y, and recycling and inverting old animation from Hanna Barbera that was shown on Cartoon Network during the day.
Space Ghost was rarely syncopated to its recycled animation and frequently featured bizarre songs by other 1960s Space Ghost characters like Zorak, Brak, and Moltar, completely reinvented to be antagonists of the equally clueless Space Ghost. The celebrity guests interviewed on the show were asked to speak as if they could see Space Ghost, and the questions they're seen answering is never the same question Space Ghost asks in the final cut of the show.
I could wax poetic on the beauty of Space Ghost forever. Adult Swim put every episode online for free temporarily when its acreator Martin Croker died last year, reminding longtime fans its place in the Adult Swim canon. Airing in the same era as Ren and Stimpy and Beavis and Butt-Head, it's less for stoners, more for little brothers sneaking downstairs after bedtime. And for you. Definitely for you, now.
The "Less than Ten Episodes So We Didn't Feel Fair Passing Judgement Hall of Fame
Less Than Ten Episodes
We can't rank 'em, per se, because we knew them so little. One of these shows has eleven episodes, and don't you dare email me about it.
Titan Maximum / You're Whole / Soul Quest Overdrive / The Rising Son / The Restless Bell / Perfect Hair Forever / Mongo Wrestling Alliance / The Jack and Triumph Show / Fat Guy Stuck in Internet /