The Magic Behind Killer Zombies and the Battle of the Bastards
A look at TV's best visual effects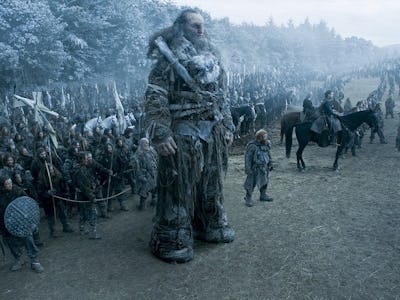 HBO
After decades as cinema's cheaper and shoddier younger sibling, television has come into its own. Much of the conversation around this era of Peak TV focuses on the small screen's transformation into the preferred storytelling medium, but the once-gaping divide between big-screen and TV visual effects has also considerably narrowed. Our appetite for big cinematic moments, time travel, and ever-more menacing creatures and characters means that studios have had to spend more money on VFX, and VFX artists have had to really step up their game.
On September 10th, Emmy voters will have their say on the best visual effects in television, with awards handed out in two categories: Outstanding Special Visual Effects and Outstanding Special Visual Effects in a Supporting Role. Ahead of the big night, Inverse takes a brief look at the nominated shows and some accompanying shot breakdowns to highlight the impressive work.
Outstanding Special Visual Effects category
Black Sails
Nominated episode: "XX", season 3
Gone are the days when TV ships at sea look as if they were filmed inside a large static tank. For its pirate drama Black Sails, Starz has summoned big guns of VFX to produce believable water simulations, CG ships and a stormy hurricane. However, not all of the action is digital — in "XX," a replica boat was filmed on dry land for some pretty dramatic shots, as the breakdown reveals.
Game Of Thrones
Nominated episode "Battle Of The Bastards", season 6
It may well be the show to beat in this category, and the HBO leader certainly has form, having won every year since 2012. "Battle of the Bastards" is a hugely detailed episode in terms of visual effects, even for Game of Thrones. A stand-out scene in the episodes sees close-in shots of Jon Snow being attacked on all sides by many men and horses. Seeing how that sequence was pulled off will make you appreciate the artistry behind horse animation and compositing of live action plates with CG.
Penny Dreadful
Nominated episode: "And They Were Enemies", season 2
Showtime's Penny Dreadful makes use of some very subtle visual effects that can, on a dime, turn into very supernatural ones. Perhaps this episode is most memorable for the shots of Vanessa (Eva Green) placing her hand on the puppet's face and releasing what seems like an endless stream of scorpions, a job only digital visual effects could pull off (hopefully).
The Man In The High Castle
Nominated episode: "The New World", season 1
What would America look like if the Nazis and Japanese had won WWII? Bringing to life that scary parallel world was the task of the visual effects crew on Amazon's The Man In The High Castle. Often it involved just slight tweaks to buildings and other architecture, while other times different-looking cars and other technology needed to be inserted into the frame. The show certainly invites the audience to look for all the fine details.
Vikings
Nominated episode: "The Last Ship", season 4
Like Black Sails, there's a cinematic quality to the visual effects of History channel's Vikings, oftentimes with an even more practical approach. But as you'll see in this breakdown, a great deal of the background environments are (seamlessly) blended into live action footage to make the scenes that much more compelling and complicated.
Outstanding Special Visual Effects in a Supporting Role category
11.22.63
Nominated episode: "The Rabbit Hole," season 1
Hulu's time-traveling series, from J.J. Abrams and Steven King, is notable more for its restrained visual effects work than anything much more grand effects-wise. That's because many of the shots are about making modern day locations look like the 1960s. However, there was some extensive work behind re-enacting the famous Zapruder film that captured the assassination of JFK by shooting on older film stock.
Better Call Saul
Nominated episode: "Fifi", season 2
As soon as this episode of Better Call Saul aired on AMC, the Twitter-sphere was alight with praise for its four-minute-plus opening, a one-take tracking shot following a Mexican truck through a U.S. border stop. Some elaborate crane and camera operating took place to make the shot happen. Add to that some sleight of hand in the number of actual shots that were filmed to blend seamlessly into one, thanks to the magic of rotoscoping, wire removal and artful compositing.
Hannibal
Nominated episode: "Primavera", season 3
Art-house television means some matching art-house-like effects, and NBC's Hannibal has many, including in this episode which saw the recurring stag show up inside a folded up human torso. Once unfolded — a gag made possible with a combination of practical and digital effects — the stag engages the audience with an awkward yet ethereal entrance.
Sherlock: The Abominable Bride (Masterpiece)
This Benedict Cumberbatch and Martin Freeman-starring Sherlock special, which aired on PBS at the beginning of the year, had a lot more visual effects than one might think. Check out the breakdown for an insight into just how little (or a lot) of the streetscape was filmed for a classic Baker Street shot.
The Walking Dead
Nominated episode: "No Way Out", season 6
Six seasons in and you might have thought The Walking Dead's "zombie kills" effects would have got a bit redundant by now. But that's certainly not the case, particularly since the combination of special make-up effects and work by the digital visual effects team on this show continues to be innovative, if not even gorier. Sometimes it's hard to tell just what was shot on set and what was done in CG.
The Creative Arts Emmys for the VFX awards will be held on September 10.