7 Comedy Shows to Binge This Summer, from 'Angie Tribeca' to 'Bojack Horseman'
Spend a couple hours with these low-commitment comedies.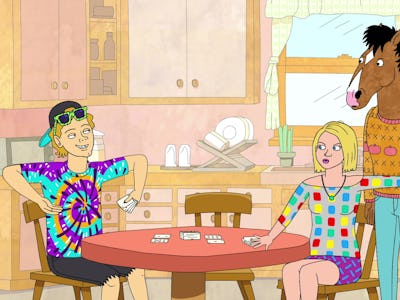 With the world seemingly going mad, 30-minute sitcoms can be an easy escape from the flood of the Brexit updates. There are plenty of options out there which don't require you to get pulled into the commitment of re-watching seven seasons of Parks and Recreation, or catching up on 10 seasons of It's Always Sunny in Philadelphia.
We've compiled some of your best options for binge-worthy comedies on Netflix and Hulu, so crank up the AC, eat a popsicle, and forget the outside world is real.
Lady Dynamite
One of Netflix's most raved-about new original shows, Lady Dynamite, was released on May 20. The show stars comedian Maria Bamford, known for her self-deprecating jokes on anxiety and depression, and is loosely based on her life. Bamford, a woman recovering from a recent institutionalization with bipolar disorder, declares in the first episode: "I'm a 45-year-old woman who's clearly sun-damaged. And I have a show! What a great late-in-life opportunity!"
The first season's 12 episodes satirize Hollywood and the world of sitcoms, featuring hilariously-played guest stars like Ana Gasteyer and Patton Oswalt. The show's cutting wit makes sense when you consider its creators: Pam Brady, best known for her work with Trey Parker, Matt Stone, and Mitchell Hurwitz, the creator of Arrested Development. It's definitely worth a watch.
The Characters
This Netflix sketch-comedy show might be the most delightfully strange option on our docket. Following the sketch format most recently popularized by shows like Inside Amy Schumer and Key and Peele, Netflix gives eight comedians full reign to write and star in their own 30-ish minute episode. And the results from this comedic experiment that debuted on March 11 vary widely. Stand-up comedians and improvisers like Orange is the New Black's Lauren Lapkus and Broad City's Paul W. Downs create musical numbers, satirical reality shows, and, of course, a bevy of bizarre characters.
What makes this show so perfectly binge-able is if the inner workings of one comedian's mind doesn't quite match your sense of humor, you can just skip to the next fully encapsulated episode. Low-commitment for the win.
W1A
This British comedy stars Hugh Bonneville as Ian Fletcher, who takes over as the new "Head of Values" at the BBC in the wake of accusations that the corporation is anti-Cornish. The show is technically a follow-up to Twenty Twelve, another BBC comedy spoofing the 2012 London Summer Olympics, but W1A can be watched just fine as a stand-alone series.
In decidedly British fashion, W1A mocks the ineptitude and inefficiency of the BBC, where executives present on a potential re-brand in which they'd remove the letters B,B, and C altogether and an intern is forced to go through four years worth of Top Gear in order to record the number of times Jeremy Clarkson says "tosser."
This show is perfect if you find yourself saying you love the British version of The Office better than the American one. And you'll finish the show pretty quickly: there are nine episodes total, 30 minutes apiece. To top it off, it's narrated by a familiar voice, David Tennant, aka the Tenth Doctor aka Kilgrave.
Angie Tribeca
Post-Parks and Recreation, Rashida Jones landed a leading role as Angie Tribeca, a cop in the LAPD's Really Heinous Crimes Unit who has had more than 200 of her partners die in the line of duty. Angie Tribeca, which can be found on Hulu, was created by probably the funniest married couple ever, Steve and Nancy Carell.
The show is ridiculous, very self-aware of its ridiculousness, and compounded in that ridiculousness with a stream of guest stars like Bill Murray and Jon Hamm. When promoting the show, Steve Carell called it "really, really stupid." But it's the kind of stupid you can't stop watching.
Bojack Horseman
With season three of Bojack Horseman coming out on July 22, time is of the essence for your binge-ing pursuits. While Netflix's "Binge Scale" recently named Bojack Horseman the overall "most-savored" comedy on the streaming service, this animated sitcom can still be consumed in moderation. Bojack, an anthropomorphic horse with a drinking problem and three human children, is voiced by Will Arnett in this dark, absurd comedy.
Black-ish
Black-ish is Michelle Obama's favorite TV show and won a Peabody Award for its second season. Need I say more? Anthony Andersen stars in this ABC comedy as Dre Johnson, an ad executive and patriarch of an upper-middle class African-American family. His wife, Bow, is played by the wonderful Tracee Ellis Ross. Black-ish mixes smart comedy with serious conversations about race and class, a balance perfectly exemplified by "Hope," the show's critically acclaimed episode focusing on police brutality. You can find the show's first two seasons on Hulu and wait for the third season to be released sometime this year.
Difficult People
If you just can't seem to get enough of Billy Eichner yelling at people, Difficult People has you covered. Eichner and Julie Klausner star as the saltiest comedians in New York City in this Hulu show executive produced by Amy Poehler. The first season of Difficult People is available on Hulu and the second season will premiere on July 12.