Before 'Vice Principals' Be Sure to Revel in the Oddity of Danny McBride's 'The Foot Fist Way'
If you're chomping at the bit for a dose of weirdness in advance of HBO's July release, McBride's first film is well worth your time.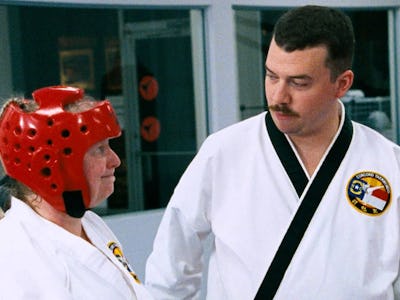 On July 17, Danny McBride will invade HBO one more time in Vice Principals, his second series for the network. Created with McBride's longtime partner Jody Hill, the new series sees the comedian go head-to-head against Walton Goggins for the top job at his local school. At this point, McBride's brand of mean-spirited comedy is well-known and much beloved by fans. But a mere decade ago, McBride and Hill were having trouble finding their way into the spotlight.
It took some clever postage and a famous person to make it happen, but not before McBride and Hill distilled their comedic vision into The Foot Fist Way, 83 squirm-inducing minutes that follow a delusional Taekwondo instructor through the darkest days of his life. It's an unapologetically brutal film that might not be for everyone.
If you're hard enough to laugh at a man's misfortune, though, it just might be your favorite indie comedy of all time.
A Man Named Ferrell
After a brief stint in Los Angeles after graduating from film school, Jody Hill returned to his home town of Concord, North Carolina with the intention of making his own film. He rounded up his old film-school buddies, Ben Best and Danny McBride, and whipped up a script spawned from Hill's days as a Taekwondo kid. As he explained to Vulture in 2008:
I remember when I first started Taekwondo, I thought my instructor was, like, the coolest guy in the world…When you go to martial-arts schools, a lot of the students…will bow, and call their instructor 'Sir' and 'Mister So-and-So.' It could definitely go to somebody's head. When you're around that more than you're around your wife or your kids, you can see how that'll lead to someone being out of touch with reality.
From there, Hill applied for — and subsequently maxed out — every credit card he could get his hands on. That plus $11,000 kicked supplied by Hill's brother allowed for a quick 19-day shoot and a cast of friends and family. While the film made it into 2006's Sundance Film Festival, it failed to find a distributor.
It wasn't until almost two years later that the film magically ended up in the hands of Will Ferrell. The actor claims he received The Foot Fist Way as an unmarked DVD that said, "Don't ever open this, no matter what you do." Ferrell's creative team actually submerged the DVD in water for a week before Ferrell, properly intrigued, said, "Let's roll the dice."
As a result of the stunt, Ferrell and his buddy Adam McKay saw the film and immediately set about finding it some distribution. It was actually the first film from Gary Sanchez Productions, the duo's pet production company.
So, Who the Hell Is Danny McBride?
In 2008, the marketing campaign for Ferrell's two-year-old indie film was pretty subdued. Most of the campaign consisted of (admittedly funny) guerrilla stunts, like Danny McBride's appearance on Late Night With Conan O'Brien in character as Fred Simmons, the king of the demo:
As you can imagine, the sketch didn't exactly drive fans to theaters, mostly because no one knew who the fuck Danny McBride was (and lots of people thought he was a real tae kwon do instructor from North Carolina). Winning supporting turns in Pineapple Express and Tropic Thunder took care of that problem – though largely too late for the film to find an audience. The film closed with a total box-office gross just North of of $234,000.
So, What's the Point of Watching It Now?
If you were fan of Eastbound & Down, McBride's last HBO series, then this film is most definitely for you. In the film, our protagonist is doing his level best to maintain his sense of moral and physical superiority in the face of his wife's adultery. It doesn't go well. And it doesn't get easier for Simmons as things go along. In the starring role, Danny McBride is spot on, channeling Simmons's anger into biting comedy gold.
Despite the film's virtually non-existent budget, McBride isn't the only face you're likely to recognize. The Foot Fist Way features some pretty stellar supporting turns from both Hill — as a metalhead who's obsessed with Asian culture — and the film's co-writer/Hill and McBride's unsung collaborator, Ben Best, who does a brutal turn as Simmons's hero, Chuck "The Truck."
For a freshman film, the tone is remarkably exact. As a director, Hill is confident and his vision is clear. The Foot Fist Way makes no bones about it's non-budget, reveling instead in the real-world vibe that such low production quality lends the film. The combination of the film's almost documentary-style execution and Hill's merciless delivery makes for a film that's totally distinct from Hill and McBride's far glossier HBO work.
The Tenets of Tae Kwon Do
The Foot Fist Way is a rough hour-and-a-half, folks. It shits all over its lead character as he gets the rude awakening he so desperately needs. Throughout the film, Hill displays a startlingly expert grasp of the medium, getting good performances from his novice cast at every turn. Fred Simmons's journey to enlightenment may not be pretty, but it's a fascinating glimpse of the future, nonetheless.
Essentially, Jody Hill's The Foot Fist Way is the first in the director's series of films starring trashy people who act classlessly. Its challenging comedy, and incredibly hilarious (provided you don't allow yourself to sympathize with any of the characters). There's really no comedy out there like the kind coming from Danny McBride and Jody Hill, and The Foot Fist Way, their clear-eyed freshman outing is definitely worth a watch for its origin story alone.