The New "The Purge: Election Year" Trailer Tips Hat to Trump
The newest "The Purge" trailer has got some tricks up its sleeve.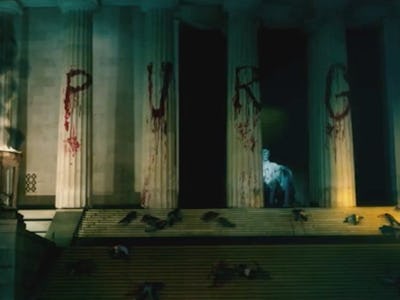 The Purge franchise, though not always popular with critics, packs a potent enough premise such that a third movie doesn't feel like a stretch. Especially in this election cycle, the totalitarianism depicted in the Purge-verse doesn't seem too far out of step from our own greatest fears for what the American government could evolve into.
According to the new trailer. Elizabeth Mitchell — who plays the anti-Purge senator and would-be Presidential candidate Charlie Roan — will be the latest high profile figure harangued by the purge and its sadistic, patriotism-mocking bloodbath. Given that the current political climate, the timing couldn't be more perfect for the paranoia-tinged lens of The Purge franchise, and here's to hoping they find a way to work in all the necessary Trump satire without having it all seem like they forced it in at the last second.
"I purged to keep my country great!" testifies an American toward the end of the clip — just another man trying to Keep America Great.
Watch the trailer below. The film is out July 1.