'Les Miserables' Director Seeks to Bring Broadway Back to the Big Screen with 'Cats'
Tom Hooper, director of 'Les Miserables,' is bringing another beloved Broadway classic to the big screen.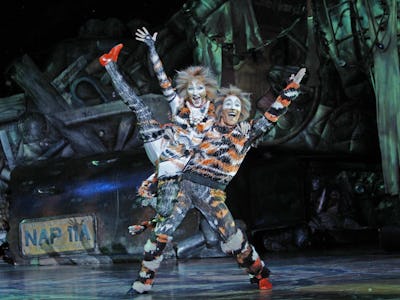 PBS
Once known as Broadway's longest-running show, Andrew Lloyd Webber's Cats made a comeback in New York City this past season, and while it hasn't dominated headlines the way Lin-Manuel Miranda's Hamilton has, one director is seeking to bring the classic musical to the big screen audience as a full-length feature film. Tom Hooper, best known for adapting other Broadway hits like Les Miserables, has been celebrating achievements with critically-acclaimed films like The Danish Girl as of recent. Now, Hooper seeks to bring Hollywood back to Broadway under Universal Pictures and Working Title.
Based on T.S. Eliot's Old Possum's Book of Practical Cats, the musical's official Broadway debut in 1982 scored it several awards, including Best Musical at both the Laurence Olivier Awards and the Tony Awards that year. The 2016 revival kicked off under the direction of Trevor Nunn, the show's original director, and actress Marlene Danielle historically stayed with the production for the entire length of its original run, from 1981 until 2000. The basic premise focuses on an annual meeting of stray cats to decide which lucky feline will be reborn again that year.
This won't be the first time Cats has been made into a film: back in 1988, Andrew Lloyd-Webber collaborated with several artists to stage the full production as a made-for-television special.
According to EW, Hooper will be joined by Tim Bevan, Eric Fellner, and Debra Hayward, who will all serve as his co-producers. As of right now, details on the film's concept remain under wraps — while Cats is classically performed by human actors in makeup, the possibilities for CGI and motion capture acting, or even a fully animated production are still up in the air.
In other Broadway news this week, Lin-Manuel Miranda released "Jabba Flow," his featured song on the Star Wars soundtrack, after performing it live in New York City with J.J. Abrams: