What's the Language in "Jabba Flow," Lin-Manuel Miranda's 'Star Wars' Song?
The official collaboration with 'Force Awakens' director J.J. Abrams just dropped on iTunes.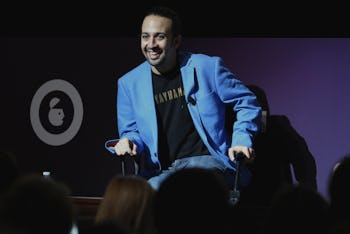 Robin Marchant / Getty
As if earning 16 Tony nominations yesterday wasn't enough, Hamilton mastermind Lin-Manuel Miranda dropped the mic on his Best Week Ever by releasing the full version of his Star Wars: The Force Awakens song.
The track has been a long time coming. In February, legendary hip-hop producer Rick Rubin put together the Star Wars-themed album called Star Wars Headspace, featuring tracks from electronic musicians like Flying Lotus, Baauer, and Röyksopp that incorporated Star Wars sounds into the eclectic mix of music. Along with those songs was an A-Trak remix of "Jabba Flow," the collaboration Miranda and The Force Awakens director J.J. Abrams. It was good and all, but it wasn't the actual song that appeared in the movie during the Cantina-esque scene at Maz Kanata's castle. On Wednesday, Miranda treated fans to the real song, recorded under the name Shag Kava, which is now available on iTunes and other digital music services.
Now that he's done directing Star Wars, Abrams has all the time in the world to do whatever he wants, like, say, attend a performance of Hamilton and take part in the #Ham4Ham events before each show. A theater kid's dream, the event features Miranda, the cast, and a special guest usually gathering near the theater's stage door and performing an impromptu music session. Abrams was the guest today, and it seems like it was meant to be a precursor to releasing the official version of "Jabba Flow."
The reggae-infused track is performed in Huttese, the language used by infamous gangsters like Jabba the Hutt, which was created by Star Wars sound designer Ben Burtt. The language is based in part on Quechua, a native Peruvian language spoken in the Andes region of South America. Check out video of Abrams and Miranda's #Ham4Ham session below:
Miranda explains that he went on a Star Wars fansite to get the Huttese lyrics, which translates to "No lover lover, it wasn't me," which he humorously calls "a Shaggy intergalactic remix." Miranda joked back in January that it would only be a matter of time before Star Wars nerds figured them out.
A little more Huttese translating reveals that "Shag Kava" roughly means "How much for the slave," while "Jabba Flow" presumably just refers to having a flow like Jabba the Hutt. Shag Kava's other song included in The Force Awakens, "Dobra Doompa," translates to "I am low down."
Listen to the A-Trak remix below: