'Star Wars: The Force Awakens' Deleted Scenes Teaser Has Kylo Ren on the Millennium Falcon
Disney released a trailer for the deleted scenes from 'The Force Awakens.' Completionists, rejoice.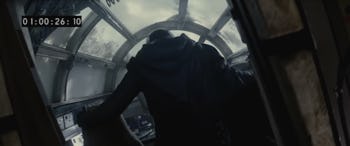 Today, Disney let loose the trailer for the deleted scenes reel from the forthcoming Blu-Ray editions of the blockbuster film. Though its short and sweet, there's a few lines of dialogue from Han Solo and Maz Kanata, some shots of Rey pondering something, and an extended cut of Kylo Ren glowering inside of the Millennium Falcon. We assume he's upset because Han has removed his child safety seat from the cockpit, but can't be sure.
He's in that baby, alright! It's like fan fiction you didn't even have to bother making up. Presumably, that scene involves Ren checking out the Falcon after it's landed on Starkiller Base, though that may not make a lot of sense — it kind of reeks of the whole "Darth Vader, for some reason, decided to walk around the Rebel Hoth base despite the fact that, in doing so, he was making the biggest possible military mistake in history" but I guess its cool in theory. Deleted scenes are just one of the many features that the physical discs will include, but here's to hoping that's theres a lot more to unpack when everyone hands over more money to Disney.