The Most Brutal War Epic of the Year is a Hidden Gem on Netflix
If you like old-fashioned war epics, watch this brutal and damning Nollywood blockbuster.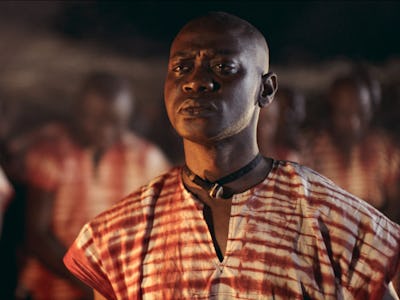 Netflix
Nollywood is one of the most active filmmaking industries in the world. The west African country churns out hundreds — sometimes thousands — of films every year, some in the English language, some not. Jagun Jagun, an indigenous war epic released on Netflix today, is a vibrant example of Yoruba-language cinema, a sub-industry of Nollywood that is based in the Western region of Nigeria.
Jagun Jagun is a brutal blockbuster with impressive production values, gorgeous cinematography, and a talented cast. It centers the story of a young man named Gbotija (Adedimeji Lateef, who somehow filmed the movie with a broken leg). At the beginning of Jagun Jagun, Gbotija enters a training school for men run by warlord Ogundiji (Yoruba acting legend Femi Adebayo, who also serves as the film's producer). The school is populated by men who wish to be trained in combat in order to protect their villages.
Like many of the others, Gbotija does not come from a family of warriors. But, after seeing his father killed in a brutal attack when he was young, he has vowed to take vengeance against those responsible. But things get complicated. He falls in love with a woman named Kitan (Bukunmi Oluwashina), whom he hopes to earn the right to marry, and he begins to question the motives of Ogundiji. And, as Gbotija learns, Ogundiji begins to see him as a threat.
Jagun Jagun is an emotional roller coaster. There is suffering and solace, bloodshed and heartbreak. So many characters have someone they love taken from them by violent force. (In the first five minutes, a prince is shot dead in front of his family.) Jagun Jagun does not turn away from this consequence of conflict and the quest for power, but rather leans into its devastation.
"Jagun jagun" means "warrior" in Yoruba, and it is shouted throughout the film, usually by Ogundiji and usually with a response of "We fight with charms and our sweat" from those he is training. What does "charms" mean here? There is a kind of magic in the world of Jagun Jagun. Some warriors are able to charm themselves into being bulletproof, while our protagonist, Gbotija, has a special connection to trees. He asks things of them, and they often obey. The system of mysticism, which feels distinct from most narrative elements seen in Western storytelling, is one example of the way the film grounds its distinct, fascinating storytelling in Yoruba culture.
If you are unfamiliar with Yoruba cinema, there are definitely going to be parts of watching Jagun Jagun where you will be lost. This is not a bad thing — it's OK to watch movies that are not explicitly made for you. Cultural confusion can easily lead to cultural curiosity. The cultural idioms used, the advice given, the actions taken and how they were interpreted by various characters make Jagun Jagun a fulfilling and unique experience. It gives one a chance to engage with media made in a country, culture, or community outside of one's lived experience — and more importantly, deal with the film's brutal takedown of the legacy of imperialism.
Jagun Jagun is an entertaining period war epic in its own right. But it is also worth watching as an action-drama antidote to the centuries-long history of white imperialism that has left so many of us with so little knowledge of people like the Yoruba. The film is brutal and, at 2 hours and 14 minutes, it is not for the faint of heart. But, if you're a fan of the war epic genre and want to know what it might look like in the context of another culture's storytelling, Jagun Jagun is worth a watch.
Jagun Jagun is streaming on Netflix.