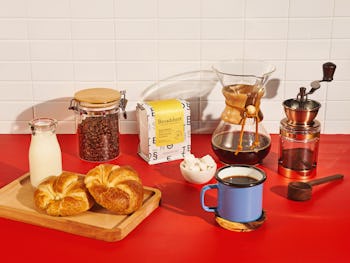 Coffee
The Secret To Making A Great Cup Of Joe At Home Is This Algorithm-Driven Coffee Subscription
We only recommend products we love and that we think you will, too. We may receive a portion of sales from products purchased from this article, which was written by our Commerce team.
Whether you are a coffee novice who hasn't ventured beyond S*bucks or a connoisseur with adventurous tastebuds, Trade's coffees subscription service meets you where you are at in terms of your palate and preferred brewing style to pair you with your perfect coffee. Just answer a few questions and let their algorithm do the rest.
I really love that not only does Trade source their beans from roasters around the U.S. (and then deliver them to your door), but they also give you the story behind their independent roasters, like Julia Peixoto of Peixoto Coffee. She's continuing her family's Brazilian coffee-farming legacy with her husband Jeff in Chandler, Arizona. Or there's Mother Tongue, a female-owned roaster in Oakland, California with bags featuring cool, psychedelic art. With Trade, you'll not only be receiving fresh, sustainably-sourced beans roasted to order, but you'll also be supporting small businesses and the growers they work with.
What Is Trade?
Trade partners with small and mid-sized roasters to give subscribers access to the best independent coffees from around the country. First, a short quiz asks about your coffee preferences. Are you a quadruple-shot espresso consumer or more of an oat milk decaf latte drinker? Trade figures out exactly which kind of roasts match your needs.
For coffee drinkers without barista-level knowledge, this quiz is extra useful. Light or dark roast? Chocolatey and smooth, or funky and fruity? Trade's algorithm takes the guesswork out of determining which roasts work best with cold brew or pair well with cream and sugar. A question I really appreciated asked how I wanted my coffee to taste, offering options like "surprising and unconventional" or "hints of something different." This feels like an important question for someone who know how they take their coffee — but who would get a little overwhelmed at a local coffee shop.
How Does The Subscription Work?
After Trade plays coffee matchmaker, you can customize even further. As a mildly knowledgeable cold-brew consumer, I was recommended a "sweet and familiar" blend from New York's Joe Coffee that works well brewed over ice. From there, I could choose my bag sizes and how often I wanted a bag delivered. The last question determines whether you want to pay per shipment or pay for multiple bags at a time.
If you're (understandably) freaked out by auto-renew, a great feature about Trade's ordering process is that you can change or pause your subscription at any time. After you finish a bag, you're then able to rate it to finetune Trade's algorithm or change up your preferences.
But How Much Does It Cost?
Trade's unique roasts are fairly affordable. If you — like me — are needing to break that daily coffee shop habit, a subscription saves money while still providing that elevated coffee shop experience. Say an $18.50 bag yields 16 cups. That translates to just over $1 per cup compared to the often pricier experience of frequenting a coffee shop. Two pricing tiers are available, one that's roughly $15.75 per bag and a premium option priced around $19.50 per bag. Plus, you'll also be able to trust each bag is the freshest quality. Trade's beans are roasted to order instead of sitting on a shelf for months.
Plus right now, you can get $30 off your first order, plus free shipping when you sign up here.
Why Is This A Cool Gift?
I'm a big fan of any subscription service that introduces me to small businesses I wouldn't otherwise have heard about. Beyond the beans, Trade offers up interesting facts about the roasters. For instance, Wonderstate Coffee out of Madison, Wisconsin, is the nation's first solar-powered roastery. Family-run Red Rooster Coffee in Floyd, Virginia, provides subsidized onsite childcare for their employees.
Now, let's talk about taste. You've already read that Trade partners with craft roasters who take the quality of their coffee pretty seriously. They take it one step further by having an in-house Q grader — basically the sommelier of the coffee world — tasting each coffee to make sure it meets their standards.
For gift-giving purposes, there are a lot of options. Gift subscriptions range from 2 bags to 24 bags. Or maybe you want to go with more of a one-time option like their Celebration Box that comes with three bags of coffee, plus a fourth bag curated for the recipient's taste.
Final Verdict:
What makes Trade cool is that the service meets you wherever you're at. Whether you want to dive headfirst into the world of coffee or you want to find a decaf that doesn't taste like weird hot water, they have your back. A subscription to Trade will open your eyes to a new, surprising world of coffee beyond grocery store basics. And if you want to get a little fancier with your at-home brewing setup, they also sell tools like a Clara French Press or a Buono Power Kettle that will have your kitchen looking like a trendy coffee shop.
This article was originally published on