The End of the Cold War Could Have Killed James Bond. Instead, it Made Him Stronger.
Pierce Brosnan's run as Bond may have fizzled out, but it started with a bang.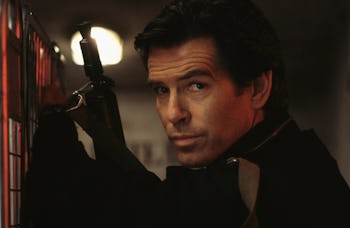 The Cold War didn't invent espionage stories. But by the time the conflict ended in 1991, the genre had been completely redefined. The back-and-forth affair encompassed secrets, betrayals, violence, and ideology, a combination that made for box office gold. Throw in some babes, and the iconic figure of the era's fiction, James Bond, was born.
When the Soviet Union collapsed, the narrative was broken. Cold War spies, fictional characters so omnipresent that they became an oft-parodied cliche, were now officially relics of the past. While James Bond had fought a wide array of villains, and at times had even partnered with surprisingly alluring Soviet officials, in the public's mind the British spy was firmly on one side of the Cold War. Even Russian audiences knew where he stood — in 1962, a Soviet newspaper attacked the first Bond movie, Dr. No, before it even came out, much to the delight of his creator, Ian Fleming.
By the end of the Cold War, even western critics wondered if Bond's cheap sex and smug quips were best left in the past. But a new global terrain wasn't a problem for the franchise; it allowed for a true reboot. After years of silence, Bond returned with Martin Campbell's GoldenEye, a movie that stared into a rapidly changing world with a smile.
GoldenEye hides its new Bond, Pierce Brosnan, for a few moments in its opening shots. A darkened figure bungee jumps down a Russian dam, eventually infiltrating a Soviet chemical plant. His intense eyes flash as he slinks through the grim, steely base. Finally, his face emerges upside down, barging in on a soldier reading a newspaper on the toilet. "Beg your pardon. Forgot to knock," he says with a smile, before knocking the soldier out.
In one sequence, Brosnan firmly establishes his Bond and the tone of GoldenEye. Charming, but with a dash of danger. Self-aware, but ready for business. GoldenEye is filled with an awareness that Bond has been away for some time, and that he's in a '90s world now. Moneypenny (Samantha Bond) notes with a smile that Bond could be accused of sexual harassment, to which he eagerly asks what the punishment is. When the new M (Judi Dench) calls Bond a "sexist, misogynist dinosaur" and "a relic of the Cold War," she's not just talking about the man sitting in front of her.
The opening highlights GoldenEye's other smart move: the introduction of 006, Alec Trevelyan (Sean Bean). He and Bond make a dashing team, effortlessly moving through the facility before Colonel Ourumov (Gottfried John) shows up to foil them. Although Bond escapes, 006 isn't so lucky.
While the movie's title refers to a Soviet-era space laser that can fire an electromagnetic pulse, history is the movie's real villain. As Bond tracks down the Janus crime syndicate behind the heist of a state-of-the-art helicopter and the GoldenEye laser, he learns that the ghosts of the Cold War don't stay dead.
While the movie's twists and turns are satisfying, where GoldenEye truly shines is its characters. Brosnan, fresh out of Remington Steele, is gorgeous and gives every would-be corny line new life. Similarly fresh are the newly proactive Moneypenny and the steely M. Dirtbag hacker Boris Grishenko (Alan Cumming) is a blast, stealing every scene and becoming a fashion icon in the process. CIA Agent Jack Wade (Joe Don Baker) gets annoyed when Bond demands he uses code words, and embarrassed when Bond sees he has a rose tattoo for "Muffy." Xenia Onatopp (Famke Janssen) is a seductive murderer who crushes men to death between her thighs, the pinnacle of Bond girl ludicrousness.
Every character in GoldenEye is operating at full throttle, eager to usher in a new era for a dying franchise. The movie wisely keeps a select few elements from its earlier era, like Desmond Llewelyn as Q during a Monty Python-esque gadgets scene, and special effects supervisor Derek Meddings, who contributed miniatures that give the movie's set pieces and plane crashes a physicality that the franchise's later, CGI-laden entries couldn't capture.
GoldenEye wouldn't be the last time that James Bond needed saving from mediocrity and irrelevance, and Brosnan's later movies would create their own problems for the franchise. But GoldenEye looked at the chaos of Soviet collapse and didn't panic. Instead, it found a better movie.
GoldenEye is streaming on HBO Max.