One of the Decades' Greatest Movie Romances is Hidden in a Gruesome Cannibal Thriller
Bones and All is the kind of all-consuming love story that only comes around once a decade.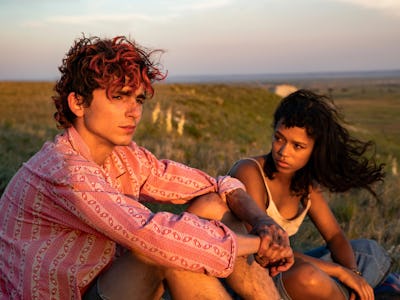 MGM
"There's before 'bones and all,' and then there's after."
So speaks Michael Stuhlbarg's unsettling cannibal nomad Jake in Luca Guadagnino's Bones and All, as he describes the sensation one can get from devouring a whole person down to their bones. Doing so would be a point of no return for young cannibals Maren and Lee, who are still trying to taper their flesh-eating urges after fleeing their old lives. But it also describes the sensation of watching Bones and All, a yearning, sensuous, bitterly beautiful road drama that finds the lovely, gory medium between Guadagnino's swooning romances and grotesque horror flicks.
An adaptation of a novel by Camille DeAngelis, Bones and All follows two young cannibals who fall in love as they roam across America in the 1980s. The movie reunites Guadagnino with his Call Me By Your Name star Timothée Chalamet, who he ushered to international stardom with the young actor's quietly affecting lead performance in the 2017 film. In Bones and All, Guadagnino coaxes another stirring performance out of Chalamet, but he's only the dark romantic foil to Taylor Russell's star-making turn as Maren.
Maren is a teenager who's spent her whole life trying to repress her cannibalistic nature, only for it to rear its ugly head during an ill-fated sleepover. It's the last straw for her beleaguered father (André Holland), who'd spent years trying to protect Maren from herself. Whenever she acted out in a fit of cannibalistic violence, he'd pack up their lives and leave for the next town, but this time he leaves Maren on her own.
Devastated, Maren decides to find her birth mother, hitchhiking across the country and running into eccentric cannibal Sully (Mark Rylance, in his most chilling performance), who shows her how to live with her urges. But Sully's obsessive nature soon scares her away, and she meets Lee (Chalamet), a fellow cannibal who instantly connects with her. They travel together and attempt to carve out some kind of peaceful existence, but eventually find they can't escape their deepest traumas and worst urges.
Bones and All is less a horror show about its sordid cannibal premise than about sympathizing with its monsters, as Guadagnino never shoots Maren and Lee with the kind of leering judgment cannibalism usually affords in movies. "Cannibalism is truly upsetting, because to resort to that ultimate taboo in order to survive – it's something that we all fear," Guadagnino told the Guardian upon the film's release. "It resonates with me, this concept that you might find yourself in a situation where you cannot control your decency."
For all its gruesome violence and grisly horrors, Bones and All treats Maren and Lee with a decency that makes their romance all the more profound. They both live with an insatiable hunger that connects them to each other but alienates them from society. And when they fall in love, they hope their love is strong enough to transform them, to turn them into the kind of decent people that society would accept. But sometimes, no love is strong enough for that.
The movie hinges on the chemistry between Russell and Chalamet, who manage to concoct the kind of movie-star magic that's rarely seen today. Russell gives a timid performance that slowly unravels as Maren and Lee slowly break each other down, while Chalamet has never been more magnetic. Their romance is swooning and intoxicating, beautiful and terrible, the kind of destructive love story that consumes everything around it. And, eventually, it does. Bones and all.