At the Beginning of the End, The Leftovers Confirmed It Was Always About Love
"The Book of Kevin" kicked off The Leftovers' third and final season with a crisis of faith.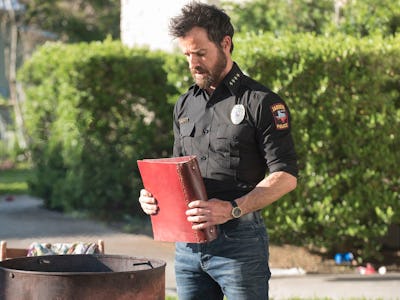 HBO
The first episode of the third and final season of The Leftovers, "The Book of Kevin," begins with a prologue about shaken faith. In 1844, a woman clad in white follows a prophet who foretells the end of times. She chooses to follow his words over staying with her family. After his predictions fail three times, the woman's unwavering faith crumbles.
Much of The Leftovers, created by Damon Lindelof and Tom Perrotta, who wrote the novel on which the show is based, explores similar themes of faith, trust, and familial love. The first season was set approximately three years after the "Sudden Departure," in which 2% of the world's population mysteriously disappeared on October 14, 2011.
In the wake of this great trauma Police Chief Kevin Garvey (Justin Theroux) attempted to live a semblance of normalcy with his daughter Jill (Margaret Qualley), after his wife Laurie (Amy Brenneman) left them to join a cult named the Guilty Remnant and her son Tommy (Chris Zylka) left to follow a messianic figure Holy Wayne (Paterson Joseph). Throughout that first season, Kevin would form a makeshift family with Nora Durst (Carrie Coon), a woman who lost her husband and two children to the event, at first built on mutual trauma and a need for destruction. The second season saw Kevin, Jill, Nora, their newfound infant daughter Lily, Nora's brother, the Reverend Matt Jamison (Christopher Eccleston) and his catatonic wife Mary (Janel Moloney) relocate from Mapleton, New York to the small town of Jarden, Texas, now known as Miracle because no one in the town departed. Throughout this season everyone's faith was tested, whether it be on a spiritual level, an interpersonal and familial level, or with their own mental facilities. The season ends with Kevin fighting his way through a metaphysical journey back to the people in his life who matter the most to him: his family.
After the prologue, the Mimi Leder-directed episode moves forward to Miracle, where the radical faction of the Guilty Remnant led by the charismatic Meg (Liv Tyler) is abruptly destroyed. The season then jumps three years, as the world – and especially Miracle – prepares for the seventh anniversary of Sudden Departure. Kevin is once again the police chief, attempting to bring order to unruly chaos. Matt now runs a congregation, convincing the town of its miracle status because his wife Mary woke from her catatonic state the moment she entered town. Nora has returned to her job as fraud investigator for the Department of the Sudden Departure. Kevin and Nora project signs of being a deeply loving couple. Things seem eerily back to normal.
But nothing can ever really be normal in this brave new world. After a visit from Dean (Michael Gaston), a deranged ghost from Kevin's past in Mapleton, reminds him of his struggles with his own mental health, he begins to unravel. His spiritual journey spirals after he abandons an attempt to take his own life with a plastic bag, is baptized in what may be poisoned waters, and survives Dean's attempt to murder him.
His faith in family is shaken further when Mary reveals to him and Nora that she is leaving the abusive and controlling Matt, who is convinced that Kevin is a Christ-like figure and is writing a gospel about him. Struggling with the weight of all that has happened in this one day, Kevin must once again face his own beliefs and decide for himself in what truth he will plant his life.
The episode ends with a flash forward to an older woman named Sarah riding her bike through rural Australia. It's clearly actually Nora, but when asked if she knows a man named Kevin, she simply replies, "no" as she stares blankly ahead. While the series finale "The Book of Nora," also directed by Leder, puts the spotlight on Nora – and Coon, in her greatest performance of the series – the emotional wallop of that final episode is rooted in the emotional stakes that Theroux establishes in "The Book of Kevin."
Although another impending end of the world is foretold as the seventh anniversary of the Sudden Departure looms, the mystery of what really happened is never fully resolved. That's the key to faith. It's belief without the need for answers. It is Kevin's crisis of faith in love and in the power of family, and he and Nora's journey back to each other, physically and emotionally, that propels the powerful final season of The Leftovers. These episodes leave the audience to contemplate their own priorities and whether they have the strength, as Kevin and Nora do, to invest in love above all else.