DC Doesn't Get Better than Teen Titans at Its Peak
While the entire series is a highlight of DC lore, Episode 10 of Season 2 demonstrates the show operating at its highest level.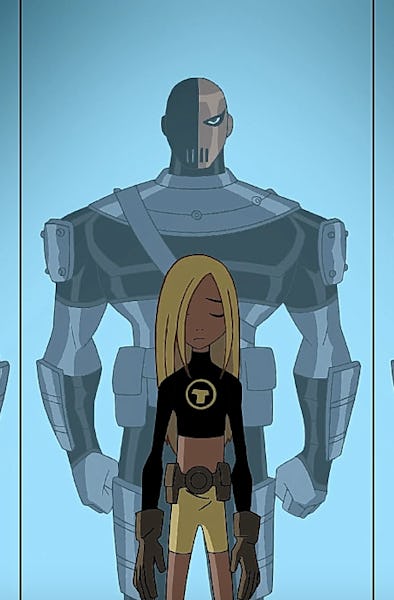 DC
There's a lot going on in the DC cinematic universe these days, but not all of it is good. Shazam! Fury of the Gods just flopped in theaters, while The Flash is rapidly approaching and with it a major shakeup of the franchise. But while DC continues in its struggle to counter Marvel when it comes to live-action movies, the company's animation studio has been kicking butt for decades.
Batman: The Animated Series gave us film noir with its art deco design and femme fatales. Justice League Unlimited brought a mid-aughts procedural energy combined with mature stakes. Harley Quinn embodies millennial doom while delivering the funniest take on the DC universe maybe ever. And Young Justice broke ground with a team full of powerful female heroes and complex storylines.
But the five-season Teen Titans is arguably the best of the best. Its visual language and distinctive style give it a sense of time and place, and its pulpy flourishes showed off its anime inspiration. While the entire series is a highlight of DC lore, Episode 10 of Season 2 demonstrates the show operating at its highest level.
Released in July 2004 after a mid-season finale that March, "Betrayal" disrupts the routine that Robin, Starfire, Raven, Cyborg, and Beast Boy carved out for themselves as the Teen Titans in Season 1. Terra had joined the team earlier in Season 2, but this was her big moment. At the start of the episode, she's fully become a member of the Teen Titans, but things get complicated when Beast Boy asks Terra on a date. As the two grow closer, it's soon revealed that Terra is actually working for Slade, the show's main villain from Season 1.
The reveal comes as a shock, but what's more surprising is how much we care by the time it happens — and the ways this betrayal ripples out into the rest of the season. Terra eventually manages to free herself from Slade's influence, but it comes at a huge cost. When she sacrifices herself in the Season 2 finale, it's an emotional moment on a show better known for lower-stakes superhero antics.
While DC's animated slate might be aimed at children, shows like Teen Titans have always found an adult audience too for one simple reason: they refuse to pander. Even the most childish cartoons still managed to tell serious stories with real stakes and heart. (The action is typically a highlight too, with far more weight to it than the CGI-powered set pieces featured in most DC movies.)
Teen Titans pushed this model to the limit with its comedic storylines and over-the-top, perpetually shifting animation. But episodes like Betrayal prove that even the weirdest DC cartoons still have more heft to them than your average superhero movie. Hopefully, as we enter a new storytelling era with James Gunn's DC Universe, the expressionist animation and intimate storytelling of Teen Titans will carry over into live-action.