Keanu Reeves' Brief Foray Into DC Comics is Worth Another Look
"What if I told you that God and the devil made a wager, a kind of standing bet for the souls of all mankind?"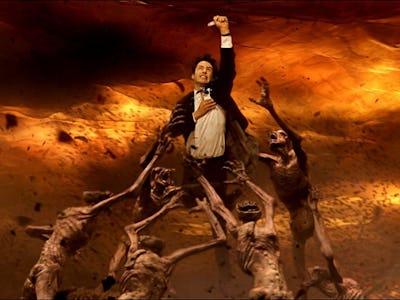 Keanu Reeves is gearing up to duke it out with some demons. Again.
Instead of wrestling with inner demons, as he does in John Wick, or with artificially intelligent demons, as in The Matrix, Reeves will return to DC Studios to fight actual demons as the occult detective John Constantine.
Cynical and prone to con artistry as he may be, Constantine was given a second chance at restoring divine balance in Los Angeles by the end of his first full-length feature. However, viewers haven't seen much of Reeves' version of the working-class warlock since Constantine debuted in 2005. Its reviews were tepid — fans didn't like the changes made to the canon, while critics felt Constantine was overburdened by world-building and lore. It took a Reevesissance in the mid-2010s for the movie to grow on people.
18 years after his first adventure, fans of the chain-smoking slayer finally have an update, as DC Studios co-heads James Gunn and Peter Safran have confirmed that Constantine 2 hasn't been scrapped. Reeves will reprise his role, with director Francis Lawrence (The Hunger Games) returning for another go at the story. With Constantine 2 still in development, it's time to revisit one of the most misunderstood and unfairly maligned DC Comics adaptations ever made.
Constantine makes the unusual choice of introducing a superhuman at the end of his life, rather than the beginning. When viewers first see him, John Constantine (Reeves) is a veteran exorcist, a legendary demon hunter who's grown more jaded with every terrifying encounter with the occult.
One of the first shots shows Constantine hard at work, but perplexed at what he finds in a demon attempting to enter Earth through a young girl, a method previously thought impossible because of a pact between Heaven and Hell. Constantine is convinced something odd is afoot, but he's also got his own concerns to deal with: he's dying.
A smoker who hasn't let a day go by without a puff since he was 15, Constantine has aggressive lung cancer. He tries to get a life extension from the half-human angel Gabriel (Tilda Swinton), but Gabriel notes that Constantine is already destined to spend his afterlife in Hell thanks to a teenage suicide attempt.
Meanwhile, detective Angela Dodson (Rachel Weisz) is investigating the unusual circumstances behind her twin sister's suicide. Isabel was a devout Catholic, leaving Angela convinced she would never take a one-way ticket to eternal damnation. Also, Isabel has a freaky symbol carved on her wrist that Angela doesn't recognize. So Angela enlists the help of Constantine. Their sniffing around in Los Angeles and the underworld alerts half-human demons like Balthazar (Gavin Rossdale), who are trying to protect a Satanic prophecy. Lucifer's antichrist son, Mammon, is slated to usurp his father and conquer Earth. Constantine may be ailing, but he won't let go of his last mortal days without a fight.
Don't let any reviews from 2005 dissuade you from catching Constantine in 2023. The filmmakers may have made some unusual changes, like setting the story in L.A. and damning Constantine because of a suicide attempt, but Reeves is a perfect version of the warlock. A well-intentioned jackass, Reeves ably handles both Constantine's inherent goodness and his self-destructive broodiness. And he does so with a witty dose of flamboyance, which provides some breathing room amid all the bleakness and horror. Lighting up and taking a long drag after being told you're going to succumb to lung cancer? It doesn't get campier than that.
Meanwhile, Peter Stormare only has a few minutes to prove that he's one of the best Satans to ever hit theaters, and he pulls it off. The ghoulish makeup helps, but with every word dripping with malice, it's Stormare's body language and voice acting that sells his rendering. Unlike the Satan of Lucifer or The Sandman, Stormare's is actually a fearsome force to be reckoned with. When Constantine tricks him at the end of their scene together, there's no doubt that the stakes have been raised.
The movie also works at being both scary and silly, even if the latter wasn't always intentional. Some of the CGI for Constantine's trip to Hell and his fight with a demon made of cockroaches and other sewer beasties was impressive for 2005, and still holds up today.
Constantine excels at introducing the occult lore of DC Comics, even if it packs a little too much into its two-hour runtime. Constantine 2 could build upon what worked in the first movie, and flesh out the weird comic book elements that weren't squeezed into the first round. However the character's return unfolds, we can't wait to catch the Hellblazer raising hell again.
Constantine is streaming on HBO Max.