The Forgotten Super 8 Is J.J. Abrams At His Finest
When he isn't in command of billion-dollar franchises, J.J. Abrams is actually capable of something more.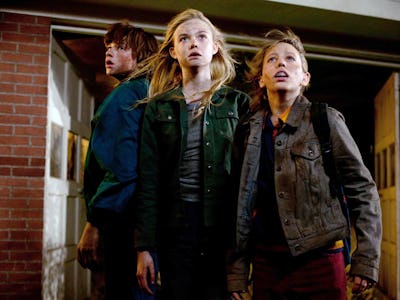 Paramount/Kobal/Shutterstock
In 2008, J.J. Abrams and Matt Reeves released Cloverfield, an experimental blockbuster that captured a monstrous invasion through the literal lens of amateur filmmaking. Three years later, Abrams revisited that same premise as both writer and director. The result is popcorn fare at its finest, and Abrams' best and most personal work to date.
Released in the early days of the summer of 2011, Super 8 is an original concept that evokes the storytelling of Steven Spielberg and Stephen King (behold suburban kids on bikes accidentally getting in trouble), but excels on its own terms thanks to Abrams' maximalism complimenting a tender, coming-of-age whimsy. Steeped in nostalgia for a 1970s Americana that maybe never was, Super 8 is a lively crowd-pleaser that still holds up even when the likes of Stranger Things have spoiled the novelty of its maudlin production design.
In a filmography chock full of franchises, Super 8 reveals what a studio hand like Abrams is capable of when freed from the demands of generating billions overseas. Super 8 is primarily the story of Joe Lamb (Joel Courtney), a 14-year-old mourning the loss of his mother. As summer begins, Joe helps his best friend, Hollywood hopeful Charles (Riley Griffiths), and crush Alice (Elle Fanning) make a zombie movie. But after a violent train crash nearby, the kids find themselves up against an alien invasion and American soldiers unwilling to share secrets.
While Super 8 isn't autobiographical — its midwestern setting isn't indicative of Abrams' actual upbringing in New York and Los Angeles — it's hard not to see touches of his own story. Like Joe, Abrams loves the tactile side of filmmaking; Joe is Charles' make-up artist and practices his craft on kit-bashed toys scattered around his room, while Abrams is a toy aficionado who claims the genesis of Cloverfield was hitting up a toy store in Japan. It's hardly autobiographical, but as Abrams told Slashfilm in 2011:
"I just remember being a kid and seeing friends whose parents were getting divorced left and right. My parents are still married. I watched friends who lost parents or who had a single parent. I just remember the complexity of being a kid and all the type of fears that you had about 'what if?' ... So I didn't go through a particular story in that regard as Spielberg did with a divorced family. But the idea of loss and being without a parent. And the thing that I did experience was I had a father who, in a sort of typical 1970's way, was a little bit less involved than I think dads are now. So the idea in my life was if the mother is suddenly gone and this boy didn't have the greatest relationship with his dad, what is that relationship once she's gone? And part of the story was that."
There's a perpetual forward momentum in Super 8 that aids its youthful vigor. While Super 8's script lacks a kind of intelligent pizazz that would make it more memorable, it's functional and knows how to keep moving. Like Abrams' Star Trek and Star Wars: The Force Awakens, Super 8 dashes forward with lightweight feet as it moves from set-piece to set-piece. Cinematographer Larry Fong keeps up with Abrams' brisk pace, so even cops sitting around making phone calls feel injected with adrenaline.
Super 8 had its admirers and was placed on many critics' top lists in 2011. But as cinemas continued to be split in two, with superheroes and proven franchises on one side and buzzy indies on the other, movies like Super 8 were lost in the shuffle. It's inexplicably become a hidden gem in Abrams' body of work, an oeuvre overpowered by sequels and reboots of the biggest brands in science fiction. Super 8 rightfully stands on its own, but time, distance, and circumstances have only become kinder to it. As Charles continually points out, it's amazing what some production value can do.
Super 8 is now streaming on Prime Video.