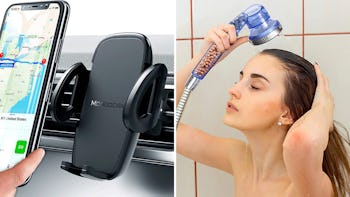 Shopping
50 cheap things on Amazon you'll get a sh*t ton of use out of every day
We only recommend products we love and that we think you will, too. We may receive a portion of sales from products purchased from this article, which was written by our Commerce team.
I once purchased a cheap kitchen tool out of mild curiosity, thinking it — like so many other clever ideas — would land in a drawer where I would promptly forget it. I used that tool yesterday, as I do every day, and realized that it is so necessary that I would have paid much more for it, though I'm glad I didn't. So I started looking around my house and realized that it's full of inexpensive and super useful items that I spent, in aggregate, less than I did on that leather armchair I never sit on. So, in honor of the hardworking tools that power our homes, here are 50 cheap things on Amazon you'll get a sh*t ton of use out of every day.
Take this wireless charging pad that will power up to three phones at once while looking like a stylish desk accessory. That will likely get daily use from several people in most homes and look good at the same time. Or consider this powerful handheld vacuum that will clean everything from the couch to the car to the stairs with no wires or expensive replacement bags. And last of all is this bidet attachment that's probably the best life upgrade you will find for less than $30. You will use it often, sing its praises, and wonder how you ever lived without it.
There are more. So many more. So read on and find the ones you want and need.
1. This remote control for everything you lose
If you have ever wished there was a remote control for more things than the TV, check out this kit that lets you point a remote to locate your keys, wallet, phone, or cat in order to find them. Just attach the four fobs to the items you are most likely to lose, and when you can't find them, press the key on the remote that corresponds to the missing item. It will beep so you can track it down.
2. A stainless steel touchless soap dispenser
Fill this soap dispenser with your own liquid soap, add some batteries, and set it down next to the sink and you have the sort of touchless soap dispenser system you encounter in public bathrooms. You never have to touch a pump with dirty hands or wonder who else's germ-covered hands have touched this. It's easy to fill and you can set how much soap it drops when the infrared sensor sees a hand.
3. The waterproof Bluetooth speaker with lights
This little waterproof speaker comes in a form factor that's perfect for carrying with you and it delivers loud high-end, low-end, and mid-range sound from its tiny body. You can buy two of them and pair them for stereo sound and it comes in four terrific colors.
4. This adapter that connects 2 garden hoses to one spigot
When your garden is asking for water in more than one direction but you only have one spigot to work with, the answer is as simple as screwing in the two-way garden adapter and connecting two hoses to that spigot. It's as easy to install as a garden hose but now you can turn a dial to deliver water two one or both hoses. The grips are plastic but the connectors are copper plated.
5. The multitool of charging cables that fits on your keychain
This clever little device manages to fit every charging cable you will need into one key-sized EDC you can attach to your keyring and always have with you. It folds in half and the ends snap together magnetically for carrying. Open it up and USB-C, micro-USB, and Lightning cables emerge from the heads.
6. These glass food storage containers for all your lunches
Prep a week's worth of meals so you can just grab and go all week with these high-quality glass meal-prep containers. They fit a full meal; the lids lock closed so the contents won't spill in your travel bag; and they can go into the oven, freezer, fridge, and microwave to accommodate all your prep, storage, and warming-up solutions.
7. This tactical flashlight that's every light you need
This rechargeable tactical flashlight is so versatile it might be the last flashlight you need. It shifts easily from a wide beam to a spotlight, lantern, or strobe so you can use it to guide your way, identify an object in the dark, light your campsite, or act as a safety light. It lasts for 10 hours on a charge and is a handy and pocketable size.
8. The bug zapper that turns fly hunting into a sport
When there is a fly, mosquito, or other flying nuisance — or an invasion of them — in the house, pull out this rechargeable bug zapper and get in a game of bug-zapping tennis. The bugs will come to fear your backhand because this racket is armed with a 4,000-volt grid that kills them with a jolt as soon as you make contact.
9. This three-device wireless charger that looks so pretty
This three-station wireless charging pad is an elegant solution to the charger mess on your bedside table. It's a simple leather-like black pad when empty but drop your Qi-compatible phones, earbuds in a wireless charging case, or whatever your particular rig looks like on it and it will charge it all about 5% faster than standard chargers.
10. An elegant desk lamp that does so many cool things
Though it takes up only a tiny footprint on your desk, this lamp does so much with that space. Touch the base to turn it on, change the light color (warm, neutral, or blue) or cycle through the three levels of brightness. Glance at the built-in clock and calendar, set an alarm, and stand your phone in the base. The light arm adjusts in many directions and the whole thing folds up for storage.
11. This phone mount that clips into the air vents
Every car has air vents in the dash and this universal phone mount takes advantage of that to mount your phone to those so it will work in your car, the rental, and whatever ride you frequent. It snaps onto a vent, grabs your phone securely, and rotates 360 degrees so you can view your phone the way you like it. Getting your phone in and out is easy with the push-button release and the silicone surface is grippy so it holds your phone securely.
12. A powerful handheld vacuum with a built-in light
This rechargeable handheld vacuum gets high marks from reviewers for its ability to get fur and dirt out of carpets, cars, and couches. It has a washable filter, a brush attachment for carpets and fabrics, a crevice attachment to get into small spaces, and a bright LED light that helps when lighting is poor.
13. The UV phone sanitizer that wirelessly charges your phone
This handy UV light sanitizer uses UV light to kill the bacteria and viruses that collect on your phone as you go through the day touching things — and then touching your phone. Just drop your phone — or anything that fits — into the box for 15 minutes and let the sanitizing power of light do its work. While your phone is in there, it will pick up a charge, too, because this box is also a wireless charger.
14. A thumb drive that fits whatever phone you have
If you want to give someone a large amount of data — photos or all your whistleblower files, for example — that's on your phone, this thumb drive will get it done. The clever plug adapts to fit whatever port is in your phone and theirs, a fingerprint sensor keeps your data safe, and it holds 1 TB of data.
15. This LED light for your patio umbrella
When the outdoor dining experience turns from a sunset meal to cocktails under the stars, pick up the remote and turn on this battery-powered, LED light that's installed on the umbrella pole. The light will brighten your gathering with 75 lumens of light from bulbs that never need to be replaced. You can dim the light all the way down to sultry romance using your remote. It opens up and snaps right onto the umbrella in seconds.
16. A dish sponge that's made from both cellulose and cotton
Most sponges are made from cellulose. And most dishcloths are made from cotton. But this Swedish dishcloth is a blend of both cotton and cellulose. The result is a sponge that's as flexible, wringable, and washable as a dishcloth but also as absorbent, stiff when dry, and effective as a sponge. It's exactly what every cleaning project wants and this 10 pack will last years because each cloth can be washed and reused indefinately.
17. The toilet attachment for a better clean
This inexpensive bidet attachment requires very little plumbing to install onto your existing toilet seat — just tap into the toilet's water supply line — and it's a huge life upgrade. Just turn the dial for a butt shower that's precisely the intensity you prefer, every time you go, and you will wonder what you ever saw in toilet paper.
18. This shower head that softens water & improves pressure
Screw in this showerhead and solve all your irritating, inadequate-shower problems at the same time. The beads in the arm filter the water so that even hard water comes out soft and gentle to your skin. And the micro nozzles speed up the water so that weak water pressure feels powerful. Dial in the style of shower you like — rainfall or massage — and enjoy.
19. A high-powered clothing steamer with a lint brush
This high-powered steamer packs a lot of high-end features into a low price tag. A big 8.79-ounce water tank delivers 15 minutes of steam without spitting while a steel head, snap-on lint brush, soft cleaning brush, and creaser let you finesse removing wrinkles and cleaning up garments. Almost 18,000 people give it five stars.
20. This cordless power screwdriver with all the bits
If you have to assemble something or are faced with any light chore where a bit of power would help, you'll be glad you have this handy, rechargeable screwdriver in your tool kit. It hinges from straight to pistol style to handle lots of scenarios, comes with 11 bits, has an LED light so you can see what you are doing, and is lightweight.
21. The strainer that clips to your pan
Skip the scary and dangerous moment where you attempt to pour a pan of hot water into a colander in the sink. Snap this adjustable and flexible silicone strainer to the side of the pan instead and just tip the pan at a speed that's easy to handle until the water is out and pasta remains in the pan. The side clips hold firmly to the pan, it's flexible so it fits lots of pans, and it's easy to store.
22. These candles you can light with a remote control
Not only will these candles never create a pool of wax on your table or set the house on fire, you can turn all of them on at once using a 10-key remote. You can even put them on a timer so they come on automatically and shut off after a while so you can fall asleep in candlelight.
23. These long-handled dusters that clean hard-to-reach places
Instead of getting out a ladder and standing on it precariously while you dust the ceiling fan, ceiling, and other hard to reach places in your house, pull out one of these long-handled dusters. The handle extends from 27 to 47 inches, the fluffy, feather-like dusters grab and hold dust, and you can wash the dusting heads so they will last for years.
24. A dehumidifier for your closet or bathroom
When moisture builds up in the air, it creates mold, mildew, a bad smell, and a sticky feel. Set this small dehumidifier down in a bathroom with inadequate ventilation, a closet that gets damp, the laundry room to aid drying, or in any small space to remove some of that moisture from the air to remedy all of that. It can pull 16 ounces of water out of the air daily and is very quiet.
25. This coffee warmer that looks cute on your desk
Set your hot coffee down on this decorative and super effective coffee warmer and your brew will stay warm to the last sip. Tap the power button to choose from three temperature settings so that every sip is exactly the temperature you like. It will shut off after four hours if you forget it's on. There are five colors to choose from, and this pick is a much more stylish than similar products out there.
26. This iron that's also a vertical steamer
If you covet a steamer that lets you get wrinkles out of clothes while they are still on the hanger, upgrade to this steam iron that not only delivers excellent steam but is also lightweight and compact for easy travel and storage. The high capacity water tank allows for up to 10 minutes of uninterrupted steaming.
27. This clip-on booklight for reading into the wee hours
When you find yourself deep into a page-turner and your bed partner wants to turn the lights out, pull out this clip-on booklight, snap it onto the pages of your book, and keep turning pages. It's rechargeable via USB, has three levels of brightness, doubles as a bookmark, and is so small you can take it anywhere.
28. A desk that makes working from bed on a laptop better
Put this lap desk between your legs and your laptop to solve many of the problems of working in bed or on the couch. It insulates you from the heat emitted by the laptop so you don't get burned, dissipates that heat so your laptop doesn't fry, stops it from slipping around, and has a slide-out mouse pad so you don't have to use the glide pad. It fits neatly in your bag with the laptop, too.
29. This toolkit for your grill that has everything you need
Next time you grill, leave the kitchen tools in the kitchen and grab this case packed with every grill accessory you need — sized for the grill — to make grilling an art instead of a trail by fire. There are two long spatulas, two regular spatulas, a chopper and scraper, and two squeeze bottles for your oils and sauces. It all zips up into a case with a handle.
30. A skinny travel mug that keeps your coffee hot
This skinny travel mug is the one that will fit in your bag so you can take it with you hands free. It's also cute, keeps coffee hot for hours in the double-wall insulated stainless steel thermos, has a leakproof lid that pops open for sitting, and comes in 10 colors.
31. This 3-pack of little cutting boards for the bar
When you just want to garnish a few cocktails with lime, herbs, or other fruits, there is no need to get out the giant kitchen board. Just pull out one of these three plastic cutting boards that fit neatly on the bar. They are small and easy to clean — go ahead and put them in the dishwasher — and the perfect size of small projects.
32. A car alarm & keyless entry system you can install yourself
If you are handy — or willing to learn — you can install this keyless entry system and car alarm yourself. It comes with everything you need as well as complete instructions to bring your older car into modern times with a remote that unlocks the doors and an alarm system you can arm with the remote. All for less than the price of a few cocktails.
33. This charger so you never have to buy batteries again
If you are tired of stocking batteries for the many devices that run on them, there is a better way. Get this battery charger — and rechargeable batteries — and keep fresh ones on hand at all times. It charges all the standard types — AA, AAA, C, D, and 9V — in about five hours. All you have to do is put dead batteries in it instead of recycling them and you will never run out.
34. A stylus that works with all your screens
Sometimes writing on a touch screen with your finger is super awkward. For those moments — drawing, signing contracts, and choosing tiny drop-down menus — this stylus is there to make it better. It requires no Bluetooth connection, is USB-rechargeable with incredible battery life, and turns off automatically if you forget to hit the power button.
35. This cooling gel face mask for a calming facial at home
If you wake up puffy and overheated, take a few minutes with this cooling gel mask and calm your skin and coold down. Then give your face a relaxing and cooling face massage with the jade roller. Just keep it all in the fridge and it will be ready to calm irritation and redness. Or pop the mask in the microwave for a warm face compress.
36. An outlet shelf that's the perfect spot for the Echo Dot
Need a handy place to set your Echo Dot, toothbrush charger, or other small electronics? How about right above the outlet on this outlet shelf that has a hidden compartment for the cord? Just replace the outlet cover with this shelf, curl the cord into it, plug it in, and you are all set. It comes in black or white.
37. This speed jump rope for a cardio workout anywhere
Jumping rope is an outstanding work out you can do anywhere, and this is the jump rope serious athletes use. The strong aluminum handles have double ball bearings in them so that the coated allow steel rope turns fast. And the faster you go, the more cardio you get. They pack up small into their own felt travel pouch so you can take them anywhere.
38. A cold brewer that looks great and makes terrific coffee
If the combination of a beautiful carafe and a delicious cup of cold-brew coffee sounds good, this stainless steel and borosilicate glass cold brewer with silicone seals (so nothing leaks) is for you. Making cold brew with it is easy. Just put the grounds into the inner sleeve and add water. Then put it in the fridge overnight. In the morning you'll have a delicious pot of coffee. Pour it over ice and enjoy.
39. The easy-to-install lights that solve your dark stairs
Just stick these bright, warm LED lights to the risers on your stairs and your dangerous lighting problems there are elegantly solved. They light only in the dark when someone approaches to save battery power, which not only works well but also creates a slow-lighting entry effect that makes climbing the stairs fun. They are great in a bathroom or under kitchen cabinets, too.
40. These big double oven mitts that protect your hands & arms
When you lift a hot pan out of the oven or off the stove, protect your hands and arms with this set of double oven mitts. They have grippy and heat resistent silicone strips on the front and a pocket for your hands on the back so you don't have to worry about heat seeping through or the pan slipping out of your grip. They come in five colors.
41. A mesh drawer organizer you can customize
Design a custom storage drawer for your desk or kitchen with this mesh metal tray that has 20 dividers you can arrange however you like. It creates nine sections that are exactly the size you need. There are rubbery feet so it doesn't slide around in the drawer and the mesh lets air circulate around your stored items. .
42. These over-ear headphones for comfy privacy
Instead of making everyone in the train, coffee shop, or home listen to the TikTok hilarity or music coming through your laptop, don these wired headphones and keep it all to yourself. They fold for storage, come in three colors, have super comfy pillow soft ear pads, have a microphone so you can take call, and always work because they require no batteries of charging.
43. A screen cleaner spray that's super portable
Keep this slick bottle of screen cleaner on hand so your phone, tablet, and touch-screen laptop are not smeared in germs and fingerprints. Just spray the screen lightly and wipe it clean with the included microfiber cloth. It's much more sustainable than disposable wipes and is about the size of a lipstick so you can keep it in a pocket.
44. The portable charger that your iPhone can wear anywhere
If your phone tends to lose power before you do at the end of the day, pocket this lipstick-sized charger to keep it powered to the bitter end. It's compact, holds a full charge, and fits into the bottom of the phone like a tiny handle. It comes in five colors.
45. This hanging shoe organizer so you can find the pair you want
Hang this set of hanging shoe shelves right from the closet rod in your closet and give yourself easy-to-see storage for 10 pairs of shoes, bags, clutches, or any of the other small items that are hard to store in a closet. There are pockets on each side of the shelves, too, to keep more stuff. It comes in four colors and is just as useful in the bathroom or pantry for supplies and snacks.
46. This fitness tracker that accesses Alexa from your wrist
Strap on this affordable fitness tracker and connect it to your phone and you have most of the features of a high-end smart watch without the high price or big watch face. It monitors your heart rate, checks blood oxygen levels, alerts you to texts and calls right on your wrist, and lets you manage Alexa features. It also gets 15 days of battery life so maybe cheaper is better?
47. The cute pen-sized lighter that uses no butane
This lighter is not just pretty, it's a slick piece of technology that uses an arc of electricity to light candles and start fires. And because it's electric, you never have to fill it with butane and it will never blow out. Plug it into a charger and wait for the four LEDs on the side to tell you it's fully charged and light your candles. It comes in five colors.
48. A bottle that makes smooth protein powder drinks
If your protein powder beverages are lumpy, this electric mixing bottle is here to make smooth, creamy protein drinks quickly and easily. Just fill with water, add powder, press the button, and watch as the blades spin to blend it. It even lights up as it blends and you can drink right from the bottle.
49. The heat sealer that closes all the bags
Once you get this bag sealer hot — which takes only a few seconds — you might find yourself rifling through the kitchen cupboards closing all the open snack bags and creating single-serve packages for just about anything. Just put the open end of the bag between the two arms and press it closed to seal it airtight. It comes in five colors.
50. An under-desk bike so you can work out while you work
Sitting all day at a desk makes it very difficult to get enough movement into your life. This under-desk bike lets you recapture some of that time by putting movement into your sedentary time. Just pedal while you work, watch TV, or do crafts. You can set the resistance and track your distance and calories spent on the LED display. Move it to a tabletop and use it for arm workouts, too.