George Lucas' Most Influential Movie Isn't The One You Think
How American Graffiti became the blueprint for every nostalgia-chasing franchise today.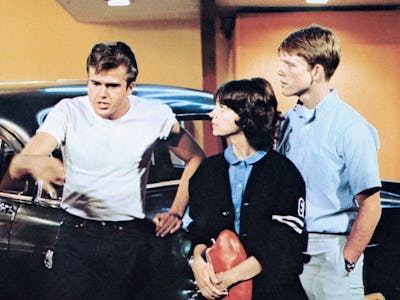 Lucasfilm
To the vast majority of the filmgoing public, George Lucas' loudest and most ubiquitous contribution to cinema is a certain mythological space opera by the name of Star Wars. Despite the auteur's relative divorce from his own franchise in its current iteration, Lucas remains less a director, and more the shepherd of a divinely-influenced bit of science-fiction gospel. And while the imprint of Star Wars on movies and culture is impossible to deny, it's Lucas' previous effort, even 50 years after its debut, that's held a much more resounding, if quieter, influence on the DNA of popular cinema.
Released in 1973 but set in 1962, American Graffiti follows a gang of four friends on the final night of their last high school summer vacation. Two of them, Curt and Steve (Richard Dreyfuss and Ron Howard, respectively) must decide whether to ship off to college in the morning or stay put. The other two — sheepish nerd Terry (Charles Martin Smith), and local big-shot John (Paul Le Mat) — aren't getting out of dodge, but tonight might be the night that changes the rest of their lives all the same.
As the pals cruise the streets of their suburban California town in souped-up hot rods looking for the remnants of their childhoods and the promise of their adulthoods in softly-lit traffic lights, cherry cokes, and pints of "hard stuff," it becomes clear that what American Graffiti trafficks in is nostalgia. It at once yearns for the characteristic creature comforts of the past, all while accompanied by a palpable gaze toward an open-ended, opportunity-filled, and permanently indefinable future. It's a wandering, soft-hearted, and ultimately melancholic look at a relatable turning point experienced by all young people, while also acting as a eulogy for the proverbial "last night of summer vacation" for the country at large, cut short by the impending arrival of the Vietnam War.
Tracking that emotional sensibility outward and into the many years beyond, American Graffiti's influence is writ large across the box-office receipts of the decades that followed. Even Lucas' own Star Wars utilizes a structural nostalgia by copying the building blocks of 1940s serials, westerns, and Akira Kurosawa samurai epics, and reconstituting them with future-gazing elements. The prompt that precedes the opening crawl is a literal embodiment of that emotive statement ("A long time ago, in a galaxy far, far away…").
Literary critic Frederic Jameson, who also dubbed American Graffiti a totemic example of what he considers the "nostalgia film," calls this almost paradoxical emotional evocation "nostalgia for the present." It's the imagined "good 'ole days" translated into the present — whether that be in the movie's literal setting or technology.
Today, "nostalgia for the present" looks more like the endless Star Wars spinoffs, or "this is my childhood!" toy adaptations like Transformers or Barbie, or any number of the endless series of reboots and reimaginings that come and go from theaters. These individual intellectual properties might have little to do with one another when it comes to their tangible details — the particulars of a Lego Movie don't have much in common with a Stranger Things, on the surface — but it's their shared evocation of the safety of a now-mystified past, through the lens of modern technology. The products they're adapting as source material aren't the commodity, it's nostalgia.
It's nothing new to say that, well, nothing is new. But that's less the point than the intended purpose: returning the audience to a time and place when they themselves felt both comforted by childlike markers of safety and by the possibility of an infinite future.
Sure, a bunch of college-bound young people wistfully floating in gleaming, candy-coated hot-rods down the various boulevards of Petaluma, California might not seem directly analogous to the newest incarnation of Teenage Mutant Ninja Turtles. But what American Graffiti foretold, embodied, and popularized all at once is, in fact, instrumental to modern-day franchises' existences. Maybe George Lucas and his rock'n'roll cruising movie didn't invent nostalgia, but they certainly sparked its omnipresence in the cinematic zeitgeist ever since.