Boy Scout Merit Badges and the Paradoxical Digital Future of Being Prepared
The call to "Be Prepared" no longer has anything to do with camping. What is a boy scout to do?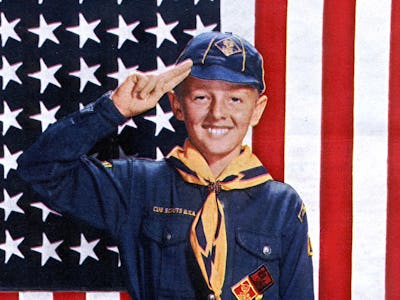 Justin Sullivan/Getty Images
The Boy Scouts of America are this country's best-known lobbying group for preparedness. Since getting its start in 1910, the group has intentionally conflated outdoorsmanship and core competence with manhood, training generations for a type of self-reliance that can feel less and less important in a digital world. But the Boy Scouts are not stuck in amber. If not committed to it, the organization is capable of meaningful change: BSA lifted its ban on gay adult volunteers in July 2015. That policy shift was lauded, but not being bigoted doesn't constitute modernizing in any laudable way. To understand the group's approach to the changing world, it's best to look at the badges.
A young man's path through Scouting takes him through a personalized curriculum heavy with what we might call "basic skills." Over time the popularity of different educational paths, which BSA tracks and rewards with merit badges, has changed. A handful of the 136 merit badges — camping, emergency preparedness, personal management — are required for a scout to become an Eagle Scout. Unsurprisingly, many of those are among the most popular. But there are upstarts as well.
The BSA has data badge popularity and it's fascinating. When Bryan on Scouting put together a ranking of merit badges in 2014, he found that the top badges remained very traditional, but that much of the mid-range badges, the ones pursued by many but not most scouts, had taken a turn for the more forward thing.
The first tech-related badge, "Space Exploration," is the 30th most popular. That is followed by "Geocaching" at number 37, "Robotics" and "Computers" at 44 and 45 respectively, and "Programming" — a new merit badge — that was moving up the list so quickly last year, it would be hard to guess its current popularity without a (currently unavailable) data set.
As Justin Rodstrom, a field director for the BSA Greater New York Councils, there is a tension inherent in pursuing tech-related badges. They seem more relevant, but they also defeat the point, which is — to some degree at least — to get away from all that and build character in the woods.
"Our basic programs that we are often times known for, whether it's building a campfire and roasting s'mores, or learning knots, or being at a waterfront and learning to swim, or rock climbing, or archery. Those are still bedrock parts of our program," Rodstrom says, adding that kids still love that stuff. "They go nuts because they're sitting in front of a computer screen or a tablet screen eight hours a day."
Scouts may not be flocking to earn the "Digital Technology" badges, but the badges that are sliding in popularity aren't necessarily the one's you'd expect. "Journalism" is near the bottom with "American Business." (It's worth noting that "Stamp Collecting" and "Bugling" are down there too, which isn't exactly shocking.) Still, many of the more recently introduced merit badges do have a technological bent to them. Since 2010, the BSA has introduced 14 new merit badges. Of those, at least five are obviously tech-related: "Animation," "Digital Technology," "Geocaching," "Programming," and "Robotics." Two of them seem genuinely promising: "Game Design" and "Sustainability."
The trend is even more obvious in merit badges coming down the pipeline: "Advanced Computing," "Biometrics," "Computer Aided Design (CAD)," "Multi Media," and "Photography" (updated for digital). So, for all the talk about getting kids away from computers, BSA isn't committed to making digital detox its core mission. Fundamentally, the organization craves relevance.
Alex Lola, a Brooklyn Eagle Scout, says that one way the Scouts have changed with the times is by changing which merit badges a scout must earn to become an Eagle Scout.
"So the 'Cooking' merit badge, up until two or three years ago, it was not even required [to become an Eagle Scout]," Lola says. "It was something that younger scouts took to have fun: make some brownies and some roast chicken and campfire pizza, and kill some time at camp … Now it's Eagle-required."
Interestingly, "Cooking" was an Eagle-required merit badge as early as 1915. It remained on the list until 1972 and came back in 2014. "You know, Boy Scouts still emphasizes very much the idea of being a man," Lola says. "But 50 years ago, 40 years ago, that was about getting a wife and paying the bills and having a nuclear family and all that stuff. But the idea of being a man is changing — for the better I think."
"Sustainability" is now required as well, replacing "Environmental Science." Lola thinks that both of these changes show that Scouting is attuned to the currents of change, including climate change.
Although the merit badges are important, Lola says that they're only a means to an end. He tells me a story, one that he presents to young scouts every year at a summer camp.
In this story, a handful of young boys gather at the base of a mountain. Their leader, a wise man, sends them up the mountain. They are to go as high as they can, and when they return, they must bring with them a branch, a sign of how far up they climbed. The boys depart and return one by one. Each boy shows the wise man what he found on the mountain, and the wise man tells them what plant they brought back and at what altitude it grows. But the last boy comes back with nothing.
He made it above the treeline.