The Anheuser-Busch InBev-SABMiller Merger Brings Us Closer to a One-Beer Future
The world's largest beer company could potentially own the world's second largest beer company.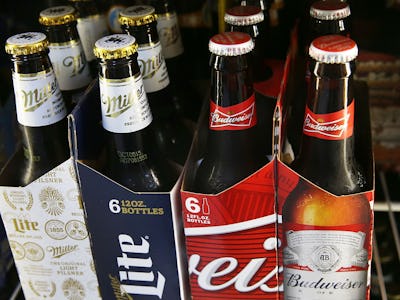 Joe Raedle, Getty Images 
Our one-beer future is ever closer to reality. Anheuser-Busch InBev announced today that it's agreed in principle that it will allow them to acquire SABMiller for $104 billion.
That's right, the world's largest beer company could potentially own the world's second largest beer company. The deal could result in a beer company that is reportedly worth $275 billion.
Anheuser-Busch's list of brands includes: Budweiser, Busch, Michelob, and Shock Top, along with a number of other smaller craft brewery partnerships with the likes of Goose Island. And SABMiller includes: Miller's, Milwaukee's Best, Ole English Malt Liquor, and a number of other international beers.
Just a simple trip down a grocery aisle will show just how many brands this merger will put under one corporate umbrella. Yet for the average beer drinker — whether they prefer Miller Lite or Bud Light — such a merger will not effect what appears on store shelves.
Many of the reasons behind the partnership seem to be about expansion into international markets. Even if craft beer is making headway in America, it is still a long way away from breaking the grip these two current already have on domestic beer sales.
The merger between the companies is only one of many between major beer companies the last few years, as this type of behavior has increasingly become the norm.
In 2011, SABMiller acquired Foster's Group and in 2014 attempted to acquire Heineken to keep from being acquired by Anheuser-Busch. That didn't quite work out in the end, but InBev was already eyeing growth when in 2008 it made an offer to buy Anheuser-Busch, becoming the world's second-largest brewing company at the time. Anheuser-Busch InBev also in 2013 acquired the Modelo Group for $4.75 billion.
The consolidation will expand the beer brands further into global markets in a way that brings us even closer to a Utopian one-beer future. Where every person from New York City to Cape Town to Tokyo can get to enjoy the delicious, watery taste of Duff beer.