Hack your Thanksgiving with French mashed potatoes
Alex Ainouz: "Achieving the perfect mashed potatoes is more doable than achieving the perfect roast turkey."
by Alex Ainouz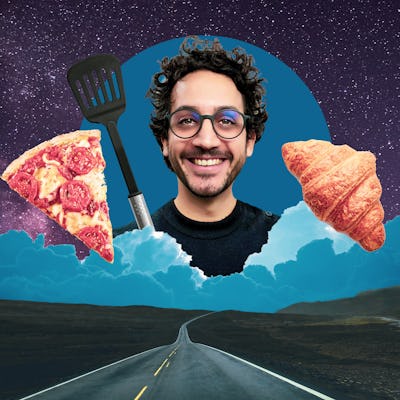 Natasha Chomko/Alex Ainouz
For Thanksgiving, as a foreigner and an outsider, I wouldn't touch the turkey. That would be blasphemy.
Instead, I would focus on things I can control a bit, like mashed potatoes. Achieving the perfect mashed potatoes on the side is more doable than achieving the perfect roast turkey, and people might not expect it. So maybe they will get a punchier slap in the face after tasting it.
The trick is to follow a very bad ratio in terms of butter to potatoes ("bad" meaning "unhealthy"). Go heavy on the butter, and then pass the whole mash through a very fine mesh to get it as smooth as possible.
This recipe is based off legendary French chef Joël Robuchon's world-famous potato puree, but I've made a few small changes to make it a little cheaper and even more delicious.
Also read: Alex Ainouz wants to inspire you to cook by failing
Update: After our initial interview, Ainouz produced a new video focused on mastering this very dish. In it, he realizes that Robuchon was actually right about using the extra-fancy potatoes. Check out the video, and read Ainouz's original recipe below.
"Go heavy on the butter.
Ingredients
About 2 pounds — or roughly 6 — Yukon Gold potatoes. (Robuchon uses Ratte potatoes, but they're too expensive and we're turning them into a mash, so it feels wrong to me.)
250 grams of butter (that's about 17 tablespoons). Robuchon goes really far in terms of butter, but I guess for the holiday it should be ok.
A little less than a cup of heavy cream.
The tip of a knife's worth of raw crushed garlic.
The same amount of white pepper.
Directions
1. Cover the potatoes with cold water and heat. Don't start with hot water; the heat must be gradual.
2. Add 10 grams of salt (that's about 0.5 tablespoons) per liter of water (about 4 cups).
3. Once the water is boiling, let it simmer for 25 minutes. (Pro tip from Robuchon: "Prick a potato with the tip of a knife and try lifting it up. If it falls off, it's cooked.")
4. Peel the potatoes while still hot and save the skins.
5. Mash them immediately. You can use a vegetable mill, but don't use a blender or food processor. It makes the mash stringy.
6. Heat the cream in a saucepan and infuse it with your potato skins.
7. Cut the butter into lumps and mix it slowly into the potatoes over a low heat.
8. Next, add the milk slowly while mixing.
9. Keep mixing with a wooden spoon and then with a whisk once it's very soft.
10. Finally, pass the mash through a sieve to give it its wow factor.
11. Add salt to taste.
Also read: Alex Ainouz wants to inspire you to cook by failing
Alex Ainouz is a member of the Inverse Future 50, a group of 50 people who will be forces of good in the 2020s.