The 3 Highest-Rated Fitness Trackers & Watches
Keep track of your workouts with some of the best fitness trackers out there.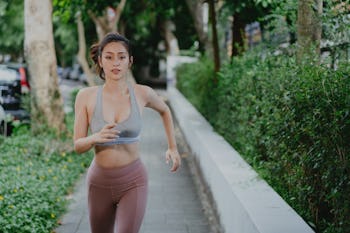 Pexels
If you're trying to work your way to fitness, you might consider adding an activity tracker or fitness watch to your routine. But not all fitness trackers are created equal. If you're looking to seriously get more out of each workout by being able to track your heart rate and other details about all the exercise you're getting, you should seriously think about picking up some of the best, highest-rated fitness trackers on the market right now. We've rounded up a few that you can consider the next time you go shopping for a new addition to your wellness program.
Fitbit's most robust tracker is lightweight, attractive, and versatile. It offers a full suite of options, including a heart rate tracker, step counter, sleep tracking, and all of the other mechanics you'd expect from a fitness watch. Plus, it contours to your wrist in a way that doesn't intrude or start pinching your arm. It's the closest analogue to a real watch you might find without totally breaking the bank. While it's devoid of a GPS tracking device or some of the other niceties you might find on other, newer models, it's still one of the best trackers you can get, especially considering the money.
Garmin is a recognizable name from the GPS space, but that doesn't mean it isn't reliable as a fitness tracker. This device is for more casual fitness enthusiasts, but it's still very much worth using, especially if you're going to start a fitness-tracking regimen. It's low-profile, comes in various colors, and includes a new "body battery" feature. Essentially, this helps you figure out the best time to exercise based on how much energy the watch has learned to expect from you. Plus, it looks like a comfortable watch. It can still track your steps, heart rate, and other various bits of information, but it's affordable and a great option as-is.
If tracking your heart rate is as important to you as being able to check your phone notifications and messages, the Fitbit Versa Lite is going to be a fantastic choice for a fitness tracker. It's small and comfortable, but it has a much bigger screen (color, too) that syncs with your smartphone app. It's richly-featured, even including female health tracking options as well as a sleep score mechanic to help you get more restful and productive sleep. If you don't mind spending a bit more money, you can opt for this Fitbit watch and you'll get just about anything you could want from a fitness tracker.