10 Essential Items for Getting the Most Out of Back to School Sales
Headed back to school? Don't miss out on these essential items.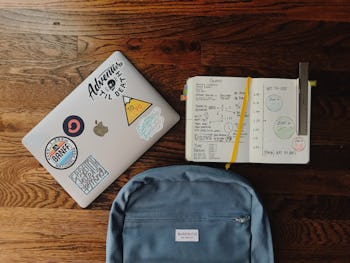 Unsplash / Matt Ragland
Summer flies by. Every year, June rolls around and before you can even finish blinking, it's August. The school year—whether you are still in school or not—brings a new start that allows you to get on top of your organization, quell bad habits, get back on track and start off fresh the way you'd like to.
If you're like me, there's nothing more fun to shop for than school supplies, office supplies and stationary. There is something about the joy of new things and putting my best foot forward that I relish in. And I know I'm not alone in this. Before you head back to school, take the time to review these 10 essential items for putting your own best foot forward. Buy it all or buy just one thing and you'll be well ahead of the game for having your best school year yet.
For Dealing With the Stress of Papers, Midterms and Finals
Why We Picked It: Before I had ever tried a weighted blanket, I thought it was bogus. I'd been using blankets my whole life and only in the case of summer's too hot for a full comforter did I find myself wishing for more weight from my blanket offerings. However, once I tried one, I began a full blown convert. This weighted blanket from ZonLi is constructed entirely of premium cotton for excellent breathability while the quilted top adds to airflow and cooling function. The internal glass beads are what give the blanket weight while also providing a hypoallergenic standard that will not hold onto unwanted odors. ZonLi reccomends that you select a blanket weight between 6-10 percent of your body weight. At 60x80 inches, you can even use this model as your comforter.
For Staying on Top of Your Schedule
Why We Picked It: Available a number of different color ways, Passion Planner is unlike any other personal planner you've ever had. Specifically designed to be a tool to help you set, visualize and stick to your long-term and short-term goals, Passion Planner is a visual tool that allows you to stay on top of your schedule, your calendar, your finances, your bad habits and more while still leaving room to journal, write down quick to do lists, make notes and doodles. Most important feature? The Passion Planner includes monthly check-ins that allow for necessary self-reflection.
For Staying Hydrated When You're Away From Home
Why We Picked It: Unlike competing glass and plastic water bottles, the que Bottle's silicone construction lends durability that itself well to a long life. The silicone construction also allows for a collapsible function that leaves extra room in your bag for other things you need. Not only that, but by carrying the que Bottle, you will have a constant reminder to drink water—even when you're away from home. Avoid the gross mildew-y smell that often comes with reusable water bottles by taking advantage of its dishwasher-friendliness.
For Staying Dry on the Rainy Days
Why We Picked It: This amazing umbrella has 2 layers and an inverted function so that you can fold the wet layer under the dry layer when you step into your office, your car, the train or the library so that you're not left carrying a dripping wet umbrella for the rest of the day. The C-Shaped handle allows for clipping your backpack handle or arm or holding on securely during the windiest of days.
For Staying Focused While You Work
Why We Picked It: The best part of doing school work is the opportunity to listen to all the music—or podcasts—you've been dying to get a minute for. Sink into your favorite songs while cancelling out the distraction of the rest of the world so that you can do your best work possible. Easy to use, these headphones will pause on their own if you take them off and magnetically attach the two-earpieces together. Did I mention their molded to fit snuggly in your ear without discomfort?
For Never Being Without A Pen
Why We Picked It: Everyone needs a favorite pen and this one is mine. At a $10 price point for 6 pens, you might as well buy a dozen. With a pen that writes as smoothly and as fine as this one, your notes will be their most legible and you certainly won't get left behind in the lecture because your pen stopped working. Keep yourself organized and on top of things with the perfect pen for all your writing and doodling needs.
For Jotting Down Your To-Do Lists Where You'll See Them
Wh We Picked It: This bundle includes an 11 by 14 inch magnetic white board and a 6 count of multi-colored magnetic dry erase pens for easy storage. Stick in in your locker, on your fridge, in the staff room at your internship or anywhere else you'll see it regularly to leave notes for your roommates, coworkers and keep track of your own grocery lists and to-do lists with ease.
For Holding All Your Belongings, Staying Organized And Even Charging Your Devices
Why We Picked It When it comes time for you to purchase a new backpack, it's not one size fits all. Sure, you can default on the same Jansport backpack you've had forever, but now that we're in the future, you have a few more options. This smart backpack is water resistant—a must for days you're caught without an umbrella or you accidentally spill your water bottle in that direction—but also features USB charging ports and an anti-theft lock for keeping all your belongings where they belong. All Tzwola backpacks are covered by a lifetime warranty.
For Easily Accessing Your Student ID, Credit Card and Public Transportation Pass
Why We Picked It: When you need to reach for your student ID, public transportation pass, credit card or a quick dollar to go in the vending machine, you don't want to spend 5 minutes digging through your bag to find it. This ultra-slim leather wallet allows you to conveniently store everything you might need urgently and you can keep it right in your pocket.
For Keeping Your Phone Charged Through Any Situation
Why We Picked It: Your phone is how you connect with the world. It's how you get emails about cancelled classes and revised deadlines. It's how you check the time so you arrive to class or a meeting on time. It's how you call for help in an emergency. It's a lifeline in this fast paced technological world. While you're out and about today, don't worry about how long your phone's battery will last, instead keep the mophie Juice Pack on your phone and you'll never be left with a dead phone again.