We've Found the Best Men's Gym Bag
The Regimen Gym Bag by Stuart & Lau is Perfect for the Gym and Your Travels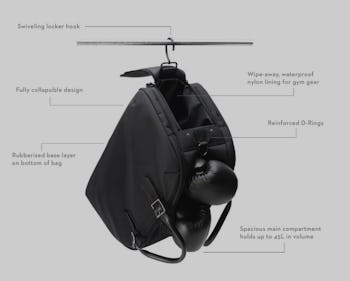 Stuart & Lau
Gym bags tend to be all the same. The bags are made to stuff sweat soaked clothes, dumped in your locker or the back of your car and forgotten about until you get home. They often are branded with an athletic company and never strike you as the kind you can bring with you to the office.
Stuart & Lau's Regimen Gym Bag has taken what we know about these bags and flipped it on its head. This bag is beautiful, it's stylish and used in the gym and taken with you to the office.
The first thing that struck us was the look of the bag. The bag features it's Duralite waterproof fabric, a staple of the Stuart & Lau product line. The look is elegant and elevated. It looks upscale, like the bag you'd travel with on your next business trip. It's far more beautiful than any bag we've seen on the market.
When you get to opening the bag you'll notice that, much like the rest of the product line, there was intense detail paid to organization. Our most popular feature is the shoe compartment at the bottom of the bag. It's a step most gym bags don't take but we wish more would. Trying to fit your shoes into a stuffed gym bag, or having them thrown in, are a consistent nitpick. These not only have their own compartment but the quick closure snaps make it easy to access them. If that's not enough the shoe compartment is waterproof, ensuring that no matter what your workout, your bag won't be damaged.
The center of the bag holds your gym gear. It's waterproof and completely seperate from any of your other personal items. As for your personal items, those sit on the side compartments. There's enough room in there to hold your laptop, your personal items (think keys, wallet, phone, etc) and some of your must-carry chargers with you.
We've even traveled with this and can confirm you can get this on the plane as a personal item. While it probably doesn't make a lot of sense to take this as your only bag when traveling (because where will you store your sweaty gym gear?) but pair this with their Monaco Weekender or a roller bag and you've got the perfect pairing for a business trip or short getaway. However, if your next trip doesn't involve a workout then this bag could be great for a couple days away.
The Regimen Gym Bag will set you back $395. It's not cheap but when you consider the alternatives it's hard to think you'll find anything similar for cheaper. The bag comes with a lifetime warranty so you can be sure that no matter how much use you get, you'll never have to be without it.
If you couldn't tell, we loved this bag and think it's well worth a closer look. If you're looking for a gym bag that is more than just a place to throw your cross-fit clothes, here you go.