This Beer Tap Brings Craft Drafts Right to Your Home
The Krups SUB Home Tap lets you keep delicious craft beer on draft for about the price of a six pack.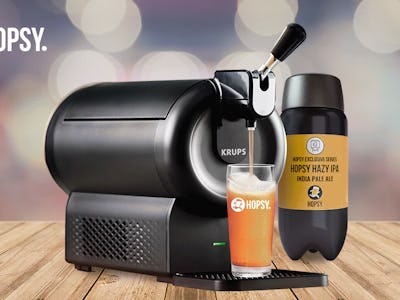 Hopsy
I like beer! That's both a confession for some and a proud proclamation for others. But for most home drinkers, it has been limited to cracking open a bottle or can (or growler, if you're that sort of person). And none of those offer a real draft experience, especially growlers that start going flat from the second they are filled. Now Hopsy, an American company founded in San Francisco and headquartered in New York, is trying to change all that. Using The SUB Home Tap, a device made by well known German home appliance manufacturer Krups, Hopsy can bring draft beer into your home. For now, Hopsy is available in major markets on the West Coast, the Northeast, and areas of the Midwest. But soon, they expect to cover most of the country.
The Device
The SUB Home Tap by Krups is a home draft beer system with about the footprint of a stand mixer (15.1 by 7.5 by 17.8 inches). It cools and dispenses the beer from mini-kegs (sometimes called "torps", which is short for torpedo) that have a form factor that is roughly similar to a two-liter soda bottle. Each mini-keg contains 67 fluid ounces, or roughly the equivalent of a six pack. The torp's design is actually quite clever. While it appears to be made of a hard but flexible plastic similar to what's used in soda bottles, it actually contains an inner bladder made of softer material. As beer is dispensed, the unit pressurizes the inner cavity to take up the space between the bladder and the outer container. This maintains carbonation, creates the tap pressure, and also forces air out of the beer's container to help keep it tasting fresh. A tube with a plastic nozzle at the end runs from the top of the torp into the tap assembly. The beauty of this is that the beer never touches the actual machine. The nozzle of the torp fits inside the machine's tap, and is replaced each time a new torp is inserted, eliminating the need to clean any lines or dispense any CO2.
Setup and Use
Setting up and using the SUB Home Tap is so easy you could probably do it already drunk. You simply plug in the unit, open the cover of the cylindrical cooling chamber, and insert your mini-keg of choice. The rear of the keg snaps into place and engages with the pump that maintains pressure on the inner bladder and allows the beer to be dispensed. Close up the unit, wait until the light turns green, and you're ready to go. It does help to chill the mini-kegs in your fridge prior to inserting them, otherwise you'll have to wait a number of hours for the light to turn green. With a well-chilled keg, that time can drop to just a few minutes. Once it's ready, the SUB Home Tap keeps the beer at around 36 degrees Fahrenheit. Dispensing is a lot like using a regular tap handle at a bar room. Pull the handle down and beer comes out. Magic! Like a professional tap system, opening the tap all the way and tilting the glass during the pour can help reduce excessive foaming. But it doesn't take much practice to pull a fairly perfect pint. And when your torp is finished, you just recycle it like you would a plastic soda bottle.
The Beer
Hopsy's nominal focus is on craft beer. And depending on which region of the country you're in, they feature a different selection of local, regional, national, and even international breweries. Some are quite large, like Lagunitas, whose products are made available to Hopsy customers in most regions. Others are smaller and less well-known, like Holbrook, NY-based Spider Bite. Hopsy goes to each brewery themselves, and fills their mini-kegs directly from the tank before transporting them in their own mobile units, ensuring that all the fills are fresh and up to their standards. And international selections from breweries like Italy's Birra Moretti and Singapore's Tiger are often available, too. Selections rotate and change constantly, so there are always new beers to try, often more than 20 at any given time. Overall, the selection features a decent variety of styles, including wheat beers, lagers, pilsners, IPAs, pale ales, red ales, stouts, and porters. However, there was an absence of some of the more esoteric styles that serious beer nerds may enjoy, such as sours, wild ales, flavored imperial stouts, goses, saisons, and the like. The focus is definitely on middle of the road categories such as less aggressive pale ales, red ales, and lagers. So while the selection is a far cry from the typical corner bar or package store, and meant to appeal to people who like craft beer, it probably isn't aimed at the drinker who chases super rare releases or less mainstream styles. Still, if you're going to keep something on draft and go through an entire mini-keg, you may prefer something easy-drinking anyway. For our review, Hopsy sent us two mini kegs: Spider Bite Irish Red and Stoop Sipper Session IPA.
Getting the Beer: Deals and Logistics
Because Hopsy has the exclusive rights to The SUB Home Tap system in the United States, consumers are encouraged to subscribe to Hopsy's online service, which allows them to receive beer on a regular basis at a discounted rate, and also provides significant discounts for The SUB unit as part of the package. See the link below for a deal on The SUB Home Tap when purchasing a subscription plan. Plans vary from as few as two mini-kegs every six weeks up to six mini-kegs every two weeks. So there's a subscription for any level of enthusiast. Before each shipment, Hopsy sends you an email with a curated selection of beers that you can accept or swap out for other beers of your choice if you prefer. You can cancel shipments up to 48 hours before they ship, skip shipments, change shipping dates, order extra kegs, or put your subscription on hold. You can also order as you go if you prefer, although you'll save money by subscribing.
The Good, the Bad, and the Bubbly
There's a lot to like about the Hopsy SUB Home Tap. First off, having cold, fresh beer on draft at your home at all times is a real treat for any beer lover. Because beer. It also allows you to have just the amount of beer that you want when you want it, without having to open or waste part of a bottle, can or growler. And beer really does taste different when it's on draft with a perfect head, and served fresh, as Hopsy's fill system ensures. So beer enthusiasts get to taste a variety of brews just as they were meant to be tasted. The system keeps the beer fresh for two weeks once it's tapped, so if you're not finishing your mini-keg by then, you might want to question your drinking ability or commitment. Overall, the Krups SUB Home Tap unit works well, and is easy to use and maintain. We did have a few quibbles, though. The SUB took quite a long time to bring beers to the appropriate temperature if they weren't very cold to start with. It's definitely disappointing to have to wait so long for your beer if you didn't plan ahead. And the unit could use some kind of level indicator, so that you know when you're about to run out or when to start chilling your next torp. It's frustrating to run out mid-pour and then have to wait a while for the next torp to be ready. The ability to adjust temperature somewhat would also be great, since many beer drinkers would probably prefer to serve some beers less cold, like porters, stouts and other dark varieties. A great way to manage all this might be to have an app that allowed both temperature control and the ability to monitor the beer level. Lastly, it would be great to be able to have more than one beer available at once. Hopsy's instructions discourage you from disconnecting a torp once it's been tapped, so you have to finish the whole thing before you can try another. Allowing a double connection or swapping would mean you could enjoy your choice of two styles without having to buy two machines. But the few flaws are all just minor drawbacks. After all, we've got fresh beer on tap at home!