The Best Ambient Noise Machines With the Best Online Ratings
Get the best night's sleep you can with these awesome ambient noise machines.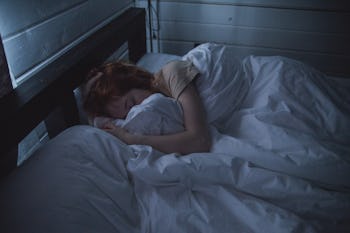 Finding it hard to sleep? Need some noise in the room to help lull you to peaceful, restful slumber? Try an ambient noise machine, which can produce several different sounds to help get you on the train to sleepytown faster than the blink of an eye.
If you're looking to buy a full-featured noise machine, you need look no further than Amazon, which has plenty to choose from. Whether you want something simple to produce the sound of static or the waves from the ocean, we've got you covered. Check out this selection of ambient noise machines with the best online ratings to help you work your way to a good night's sleep. You deserve it, after all.
1. Avantek White Noise Sound Machine
This colorful speaker features 20 non-looping sounds, including 6 types of white noise, 6 fan sounds, and 8 nature sounds. It also features 30 volume levels to help you find the sweet spot for roaring waves and comfortable static. There's a timer and memory function to help you keep it off between certain hours or turn it off as you drift off to sleep as well, which makes it easier to remember to use it at night, when you need it the most. Plus, it's small enough to fit in a bag and take anywhere.
2. Adaptive Sound Technologies LectroFan Sound Machine
Opt for this sleek black ambient sound machine that offers ten fan sounds and ten ambient noise variations, like pink noise, brown noise, and white noise depending on what helps you sleep better. It continues to dynamically generate new sounds that will never loop, so you don't have to hear the same sounds over and over again. It has a 60-min timer to leave on so it'll softly fade out after you head to bed, and you can change the sound level to your liking as well.
3. Marpac Dohm Classic White Noise Machine
This unique noise machine looks mostly unlike any of the others on the market, and comes in several different colors. It comes with two seeds and customized sound with acoustic housing and a dual speed fan so you can help get to sleep quicker. Rather than offering simulated noises, it makes the same you'd normally get from a real fan without having t buy a fan or deal with the air. You can use the "high" volume switch for louder environment and "low" for more sound masking. It's perfect for anyone needing a quick and easy way to get to sleep faster.
4. Sound+Sleep High Fidelity Sleep Sound Machine
Opt for a full-featured noise machine with this Sound+Sleep option. It has the most unique sounds you can choose between in comparison to others on Amazon so far, with over 30 "immersive" non-repeating soundscapes to help you relax. It has a useful Adaptive Sound feature that listens to your environment and responds by adjusting the volume to make sure it either gets louder to mask noise around you or remains soft and unobtrusive. It even comes with lighting on the front that automatically dims to remain distraction-free. The timer that reduces the volume after a time limit of your choice is also useful feature.
5. Sound+Sleep High Fidelity Sleep Sound Machine
This machine may have a bit of a funny name, but it gets the job done. It includes six sounds perfect for getting you to sleep: brook, clean, rain, thunder, white noise, and summer night. It helps filter out the background noise for an improved, more restful sleep so you can fall asleep quicker, sleep better, and actually wake up feeling as though you're recharged. It's highly portable, and you can use either 3 AA batteries or an adapter to power it, just in case you want to take it on the go with you.