The 7 Most Expensive Items on Amazon Right Now
If you don't know, you probably can't afford it.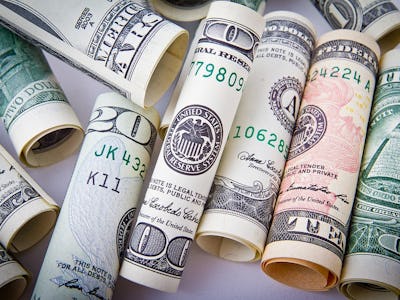 Pixabay
This is the fun part of my job and maybe the fun part of your job too. If you've found yourself here, you're probably avoiding some volume of work in favor of a few moments of aimless browsing. I've spent the better part of my last decade of online browsing preparing for just this piece. All the nights of aspirational browsing for the must-have item for my kitchen if I were worth $2 million more than I am have led to this exact assignment.
But if you've just come into your inheritance, you won the lottery or have finally sold your idea to some very well-endowed venture capitalists, maybe the money is burning a hole in your pocket. Maybe you just want to know what it feels like to blow $100k on a single item without financing it. Whatever your reason for needing to know the most expensive items currently available on Amazon, rest assured, here they are.
Rolex Cosmograph Daytona Ice Blue Mens Watch
For $59,784.95, you could get shipping for free on this brilliant watch. For a little less than $60k, you could be the proud owner of a Rolex and you could now be known as the person who owns a Rolex. How cool! It comes with a case, weighs a whopping 3.8 pounds and at this price, you'll either wear this watch everyday for the rest of your life or lock it in a safe.
Rolex Sky Dweller Sundust 18K Everose Gold Mens Watch
A little cheaper than the last Rolex on this list, for just about $40,000 and a little less weight on your wrist than 4 pounds, this 1 pound gold beauty could enhance the body of anyone with the warm undertones suitable for gold. If you have the $38,627.90 laying around for it, why not buy it?
Rolex Oyster Perpetual Cosmograph Dayonta Ice Automatic Chornograph Watch
Rolex is one of the most expensive brands known to man so obviously, if they are sold on Amazon, they are going to be some of the most expensive items available. A little more expensive—if you consider another $10-$20k a little—than the other two watches on this list, this Rolex isn't just precious metals, each of the hour markers is a bagutte diamond. The bracelet is made entirely out of platinum and for the $64,999 it costs, it might as well be waterpoof up to 100 meters in case someone thinks they're being cute pushing you off your yacht.
Mickey Mantle Autographed Set of 4 Authenticated Baseball Cards
If you're in the game of collecting and your collectors items are something in the hundred thousand dollar range, you're in luck! This set of 4 Mickey Mantle autographed cards in currently on sale for $36,364 than it usually is so instead of spending the expected $127,273.99, you could pay $90,909.99 and your collection could be complete.
Canon EF 600mm Super Telepgoro Lens for Canon SLR Cameras
It's the year 2018 and you might still be resisting digital photography, it's cool. It's expensive, but it's cool. You might be in the market for a new lens and you might have $11,000 to spend on it. You're in luck. For $10,999.95, you could be the oner of this amazing piece of equipment that I'm sure will finally win you the National Geographic Photo of the Year.
Generac Commercial Series Liquid-Cool Stand By Generator
One time you were without power for something like a week and a half, and you have a good amount of money, so I suspect you own an entire warehouse. To avoid being without power for another week and a half at any point, you might want to consider buying this $33,220.38 generator + $94.99 in shipping. And it operates at near-silent, so don't worry about running it and having it listen to a loud rumble, you priced out of that.
Groen Kettle/Cooker Mixer - 80 Gallon Capacity
With all the money in the world, and the industrial space I imagine you living in, maybe you have it in your heart of hearts to feed the hungry. Maybe you've made your money and now you are just trying to figure out what to do with your days. Take this free idea: buy [this industrial mixer]https://www.amazon.com/Kettle-Cooker-Mixer-Direct-St/dp/B0065M9WV0/ref=sr_1_1?s=kitchen&ie=UTF8&qid=1542389683&sr=1-1() and start making giant batches of whatever you want and give it away to the people who need it most. It only costs $71,916.16 and shipping is free!