15 Incredible Pet Items That Are Selling Out on Amazon
When you love your pet as much you do, the shopping is never over.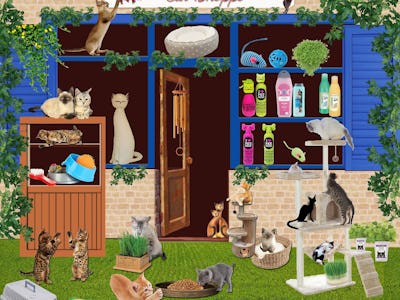 Pixabay
Any animal lover knows that having pets is a lot like having children. This is an article for those people. The ones that send Christmas cards of their children to estranged family members and coworkers. The ones that post entire social media stories exclusively featuring their pets. The ones that affectionally refer to their animal children as their "fur babies" and proudly claim the titles "[insert furry friend here] mom and dad."
If you're one of these people, I don't have to convince you your pet needs another toy or accessory. This is more about you anyway. This is about you wanting the rush of an impulse purchase and the excitement of a pet learning that something entering your home is for them. And I get it. I'm the same way. So much so that when my partner and I go to stores and one of us finds an adorable plush that our dog would love—our cat doesn't fancy anything more than cat nip—we have to remind each other that she just got a gift and that a gift giving holiday is coming up. We have to remind ourselves that we've got to teach our pets the value of a dollar and that a bratty spoiled pooch will not make a good friend at the dog park.
But because there's always an excuse to give a gift and your pet will always be the most grateful recipient, I'd be remiss not to include a list of the best pet items on Amazon. So that's what I did.
Petyella Airline Approved Pet Carrier
Best Feature: I've yet to meet a pet that really likes being in a travel carrier and I can only assume it's because it's super cramped and you're probably taking them to a scary place. Since the latter often can't be helped, it's imperative that a travel carrier being spacious enough for its inhabitants. Unlike rigid, hard-sided pet carriers, this one unzips on the sides to expand for additional room.
Avg. Amazon Review: 5 Stars
Price: $34.95
Why You Need it For Your Pet: Traditional hard-sided pet carriers can be difficult to store, but this one collapses for easy flat storage. Additionally, traditional options may be too small for your cat to use one time and your Bichon Frise to use another time. Minimize clutter by only having one pet carrier.
Spot Brand 6-Pack Ethical Pet Spring Cat Toy
Best Feature: Cats can be pretty fickle when it comes to toys they're willing to play with, but the lionshare of cat caregivers on Amazon boast that their cats cannot get enough of these. These springs can be a game for you and your cat—think flinging them across the room like a rubber band—or something your cat can play with solo.
Avg. Amazon Review: 4.9 Stars
Price: $14.98
Why You Need It For Your Pet: Every person to review this toy on Amazon asserted that this a toy easy for your cat to lose. Because this item comes with 6-packs of 10, you won't have to worry about your cat ever being without a toy and it'll be like Christmas all over again next time you clean under your couch or bookcase.
Bayer Seresto Flea and Tick Collar for Dogs
Best Feature: Unlike topicals that only last for month, for roughly the same cost, this medically treated collar will keep your dog protected for 8 months.
Avg. Amazon Review: 3.9 Stars
Price: $54.99
Why You Need It For Your Pet: If you've ever given your dog a topical flea and tick treatment, you know how soon after they require a bath and how difficult that can be to fit into your already busy schedule. This collar gives you 8 months of peace of mind, no bath required.
Delomo Pet Grooming Glove
Best Feature: Being a glove, this pet grooming device tricks your pet into thinking they're being pet rather than groomed.
Avg. Amazon Review: 4.3 Stars
Price: $13.86
Why You Need It For Your Pet: Friendly for all coat types, you no longer need separate grooming devices for each pet in your household. If your pet hates being groomed like so many pets do, this device will make a tedious task much easier to accomplish.
Petrodex Enzymatic Toothpaste for Dogs
Best Feature: Because of its unique poultry flavoring, your dog will look forward to the taste and enjoy brushing without a fuss. And by being completely dog friendly, it's an easy as brushing their teeth and sending them on their way since dogs don't have to spit. Just like a treat!
Avg. Amazon Review: 4.5 Stars
Price: $6.97
Why You Need It For Your Pet: Dogs can get some rank smelling breath, but that doesn't stop them from giving kisses! Optimize your enjoyment in being on the receiving end of dog kisses by getting your dog into the habit of having their teeth brushed. Benefits include reduced plaque and bad breath.
Petrainer Rechargable Dog Training Collar
Best Feature: Rainproof and rechargeable, this isn't a device you have to worry about constantly taking on and off your pet.
Avg. Amazon Review: 3.7 Stars
Price: $26.99
Why You Need It For Your Pet: It's not something your pet has to wear forever and if you struggle with the stern voice that most pet training requires, this is a worthwhile reenforcement by subbing in small shock, vibration and beep for berating a fluffy creature.
TOMSENN Lion Mane Dog Costume
Best Feature: It's so cute! Your dog can look like a domesticated big cat whenever you want. Why wouldn't you want to be a glorified wig on your dog?
Avg. Amazon Review: 4.4 Stars
Price: $13.58
Why You Need It For Your Pet: Halloween is coming and we both know your dog isn't going to be cool about being in that superhero costume you bought on clearance. With just one piece in this emsemble, it's much for likely you'll be able to get at least one photo for your friends and family.
Bonve Pet Nail Professional Nail Clippers
Best Feature: No-slip grip on the handles saves you the worry of accidentally knicking your fur baby's paws.
Avg. Amazon Review: 4.2 Stars
Price: $9.99
Why You Need It For Your Pet: Because these nail clippers are curved, you don't have to worry about painful splitting or fraying your pets' delicate nails.
Bonve Pet Car Seat Cover
Best Feature: Waterproof and machine washable, keep this seat protector in your car to maintain cleanliness while still taking your dog(s) on super fun field trips.
Avg. Amazon Review: 4.3 Stars
Price: $19.99
Why You Need It For Your Pet: Some of us spend a great amount of time in our cars and sometimes we bring people into them. We love our pets but we know they can be messy. Bring them along for rides without needing to vaccuum the entire interior after.
Go Pet Club 62 in. Cat Tree
Best Feature: The best feature of this one has to be the price. Go ahead and try to find another cat tree this cool under $100.
Avg. Amazon Review: 4.3 Stars
Price: $69.99
Why You Need It For Your Pet: Save your furniture before it's too late! Your cat will love hanging out here so much the arms of your chair will be preserved for years to come.
Bonve Pet Grooming Set
Best Feature: This set comes with everything you need to groom your pet. You won't need to buy anything extra.
Avg. Customer Review: 4.0 Stars
Price: $19.99
Why You Need It For Your Pet: At this price, you can groom your pet entirely at home—fitting it perfectly into your schedule without having to manage making an appointment, picking up and dropping off your beloved animal. Besides, no one will take better care of them than you.
Petstages Tower of Tracks Cat Toy
Best Feature: The tiered design keeps the balls firmly wedged on their tracks, making it unlikely your cat will be able to get the ball loose and play with it for many years to come.
Avg. Customer Review: 4.5 Stars
Price: $11.99
Why You Need It For Your Pet: Keep your cats busy and entertained while they have the zoomies. A bored cat is a sad cat.
RABBITGOO No-Pull Dog Harness
Best Feature: A lot of harnesses come with a muzzle-like feature that worries passersby. Keep your dog looking friendly while training them how to walk on a leash.
Avg. Amazon Review: 4.4 Stars
Price: $18.99
Why You Need It For Your Pet: There's nothing worse than trying to take your dog for a relaxing walk, but instead being met with several blocks of nearly having your shoulder dislocated. Easy on and easy off, don't worry about wrestling with your dog on or off leash anymore—unless, of course, that's how y'all play.
Catit Water Fountain
Best Feature: The cute flower top fountain feature will bring a smile to your face every time you look in the direction of your cats' water bowl.
Avg. Amazon Review: 4.1 Stars
Price: $29.99
Why You Need It For Your Pet: Say no more to picky water drinking and rest assured that your finnicky cat is hydrated enough with maximum oxygenation for fresher, better tasted water with a water softening filter.
IRIS USA, Inc. 3-Piece Airtight Pet Food Container Combo
Best Feature: It's on wheels! Put it in one corner. An hour later, move it to another corner.
Avg. Amazon Review: 4.3 Stars
Price: $22.61
Why You Need It For Your Pet: Bulk buy food and store it in an airtight container without concern your voracious eater will devour it before dinnertime.