Facebook and Top Tech Companies Are Trying Not to Mess Up Another Election
A dozen companies are forging an alliance.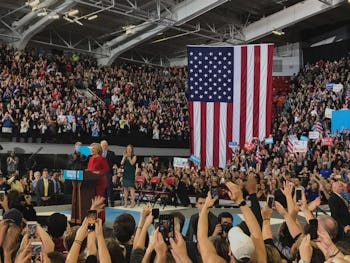 Wikimedia / SecretName101
Leaders from Facebook, Twitter, Google, Microsoft, and other tech giants will meet on Friday to strategize ways to avoid messing up the 2018 midterm elections as royally as they did the 2016 presidential election.
Nathaniel Gleicher, Facebook's head of cybersecurity policy, reached out to employees from a dozen tech companies last week to coordinate a strategy meeting on curbing misinformation, Buzzfeed News reported. The tech giants are expected to gather at Twitter's headquarters in downtown San Francisco on Friday, just days after Facebook announced it had removed 652 accounts, groups, and pages for coordinating disinformation campaigns.
The companies that will meet have faced varying levels of criticism for how their platforms were used to spread misinformation during the 2016 presidential election, particularly by Russian intelligence groups. Ahead of November's midterm elections, leaders from Facebook and Twitter are expected to testify before the Senate Intelligence Committee next month to answer questions about the two social media companies' roles in protecting voters from misinformation.
Gleicher's emailed invitation said that the meeting will have a three-part agenda, beginning with a presentation from each company on the work their teams are doing to counter misinformation. This will be followed by a discussion period where company leaders can share their ongoing problems and workshop new ideas for solutions. Lastly, the meeting will explore the possibility of becoming a regular occurrence, creating an intercompany task force across the country's largest tech platforms.
Not only has Facebook deleted hundreds of accounts for building misinformation campaigns this week, but on Tuesday, Microsoft announced that it had shut down several web domains believed to be registered by Russian intelligence for phishing operations. Two days later, Google announced that it had removed several fake news accounts from YouTube.
Ahead of next month's hearing, it's clear that Facebook will want to appear proactive in its strategy to combat foreign meddling and misinformation. While the plans discussed in Friday's meeting have not been made public, the fruits of their labor will most likely be presented before the Senate Intelligence Committee in September.